[PR] Evolution released today its Interim Report for January-June 2021.
Second quarter of 2021 (Q2 2020)
Operating revenues increased by 100% to EUR 256.7 million (128.3)
EBITDA increased by 115% to EUR 174.7 million (81.1), corresponding to a margin of 68.0% (63.2)
Profit for the period amounted to EUR 144.4 million (70.4)
Earnings per share amounted to EUR 0.68 (0.39)
January-June 2021 (H1 2020)
Operating revenues increased by 102% to EUR 492.5 million (243.5)
EBITDA increased by 130% to EUR 334.8 million (145.3), corresponding to a margin of 68.0% (59.7)
Profit for the period amounted to EUR 276.4 million (124.6)
Earnings per share amounted to EUR 1.30 (0.69)
Events during the second quarter of 2021
Continued high demand for Live Casino +59% growth YoY
Announced acquisition of Big Time Gaming closed on June 30th
After the end of the period, the new Michigan studio was approved and is ready for launch
Summary of the second quarter and first six months of 2021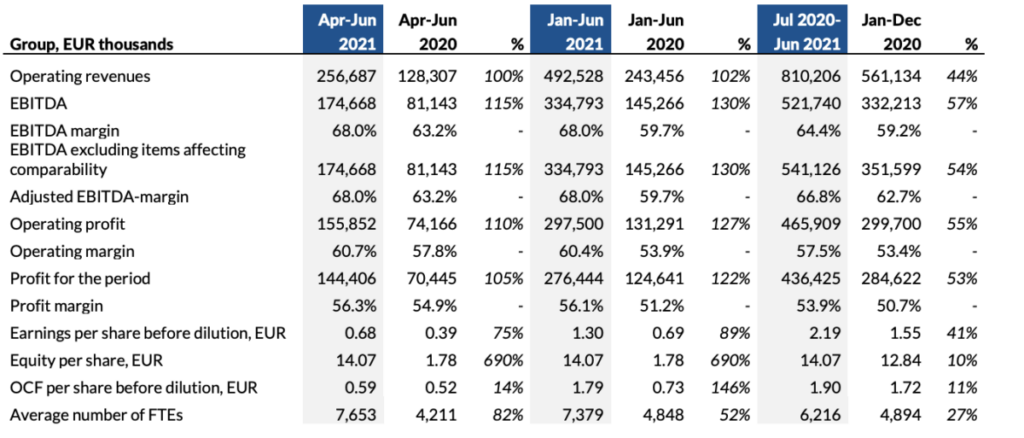 CEO's comments
Our strong development continued during the second quarter, we see very strong top-line growth and good momentum for Evolution. Revenues in the second quarter increased by 100 percent compared to the second quarter of 2020 to EUR 256.7 million. EBITDA increased to EUR 174.7 million, an increase of 115 percent and corresponding to a margin of 68 percent. We are in the middle of reshaping our RNG road map and revenues in the RNG business increased slightly from the first quarter this year but declined by 2 percent compared to Q220. I expect the year-on-year RNG-growth to improve in the coming quarters this year. The Live Casino business continues to see exceptional world-wide demand and grew with 59 percent compared to Q220. It is good to see Live Casino continue to deliver such a high growth rate yet another quarter. I am happy with the performance in the second quarter but as always we can do better and should always strive to do more.
Our EBITDA margin reached a new high level during the first quarter this year, a level that we maintained this quarter and I expect to maintain also during the rest of the year. Strong demand contributed to the margin development in the quarter, but as we have stated several times, in a trade-off situation between margins and growth, we will always go for long-term growth.
As always, we continue to put great focus on products and innovation in both our verticals with the ambition to continuously recharge our product offering. The flawless end-user experience together with entertaining, innovative games is the core of Evolution. Evolution's ambition is not only to continuously develop new unique games, but also to launch incremental improvements to our existing titles to enhance the player experience to perfection in every detail. In Live Casino securing long-term quality through continuous improvements is essential in our ambition to increase the gap to competition. In the quarter we have for example made a revolutionizing new version of our Baccarat game which we hope will be the new way of playing Baccarat all over the world. Also the Game Show category will see new titles during the second half of this year. We are developing the category with games that engage the players with more entertainment and more control for the player. We believe this is a way to broaden the category even further to yet new types of players.
As I write this one of our biggest slot-launches this year – Starburst XXXtreme – has just reached players. The slot is a sequel to NetEnt's flagship title, the iconic Starburst launched back in 2013. We believe this boosted sequel will really take the player experience to a completely new level. The joint product team combining the creative talents from NetEnt with Evolution alike, is now also coming up to speed and I look forward to seeing what the joint team will deliver in terms of continued revenue synergies.
At the end of the second quarter, Evolution also completed the acquisition of Big Time Gaming, announced in April. The acquired business, with its portfolio of slot brands and game mechanics, will be fully consolidated from the third quarter 2021. We all very much look forward to start working on what we can do together with BTG.
As stated at the top we continue to see increased demand for online casino globally. Our products are global, and our long-term ambition is to be the global market leader. We want to re-shape the Online Casino market in the world. It is that simple. The expansion potential lies in both existing geographies and in new markets. This quarter we have expanded in the UK through an agreement with the gaming operator Entain for online games on the Ladbrokes, Coral and Gala platforms. In the US new markets open up state by state. Our Michigan studio is approved and ready for launch, it will be the 3rd studio we operate in the US.
We have high demand on expansion and we will continue to invest both in existing studios as well as new studios both in North America as well as in Europe. During 2021 we will add two new delivery hubs in Europe. Coming into 2022 we see expansion and investment in studios continuing in current locations but also in new markets like Latin America. Still, the pandemic continues to impact our expansion plans and we continue to follow guidelines set by the countries where we are active. The overall situation is improving but it is still very hard and the pandemic is not over.
This quarter we announced a partnership with Scientific Games to bring our Lightning Roulette game to land-based casinos. This will be the first Evolution game to be launched in land-based casinos. We're happy to be able to offer the game, which is very popular with online players, also in a land-based environment. In the near-term I see it mainly as a way to continue to build trust and strengthen our relationship with casino players across the globe.
It is a very active time within the company right now. I very much look forward to the second half of the year, and to continue to widen the gap to competitors. We remain ever as paranoid, only by working hard to improve our offering step-by-step, day by day – every day can we reach our goals.