Game shows – redefining your live casino
Evolution has combined your favourite traditional table games and money wheel games with elements of world-famous game shows and board games for an immersive and totally involving gaming experience. Our Game Shows category delivers more entertainment, interaction and thrills to players than ever before with the addition of multipliers that add extra layers of excitement.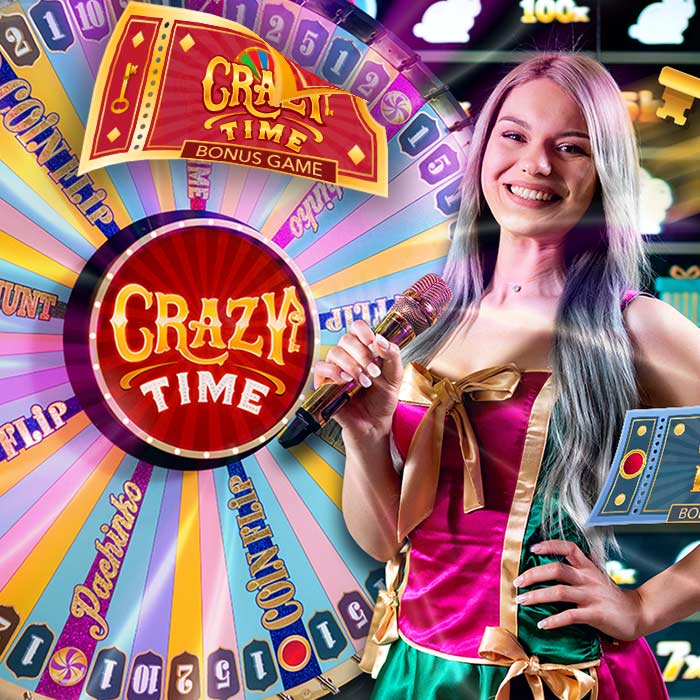 CRAZY TIME
Get ready to play the most fun casino game ever made! Crazy Time is loaded with bonus games and multipliers, and is a true game show that's both fun to play and watch!
Crazy Time is set in a large, colourful and entertaining studio that includes a main money wheel, a Top Slot above the money wheel and four exciting bonus games – Cash Hunt, Pachinko, Coin Flip and Crazy Time.
The crazy, all-action gameplay revolves around the main game and the four bonus games. It's easy to play, as players just place their bets on numbers (1, 2, 5 or 10) and/or the bonus games. In two of the bonus games, the players get to make a decision that is extra exciting – the players will no longer always win the same prize!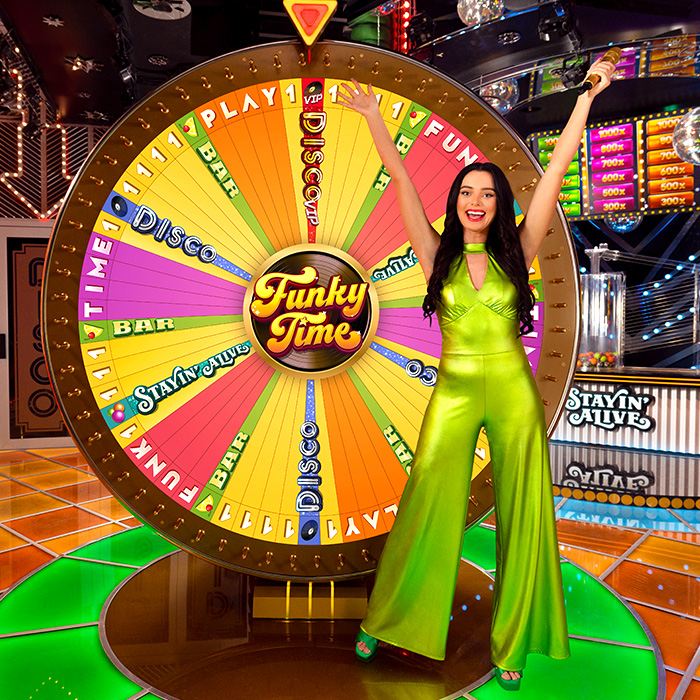 FUNKY TIME
Funky Time is our biggest live game show since Crazy Time, and it's a unique, funk-tastic gaming experience! Get ready to boogie down with the incredible DigiWheel, catchy disco beats, and daring dance floor moves.
This '70s-style disco-themed live game show offers a fantastic main game featuring the DigiWheel money wheel, which dynamically generates numerous random multipliers in each game.
Additionally, one-third of the wheel comprises letter segments with a default payout of 25:1.
Most importantly, Funky Time delivers four unique Bonus games with multipliers guaranteed. Win on a Bonus segment on the wheel and proceed to one of the following Bonus games: Bar with a funky robot serving multipliers; Stayin' Alive with a fun-filled multiplier ladder and ball drawing machine; and Disco and VIP Disco, where Mr Funky will show you his best dance moves while collecting multipliers for you!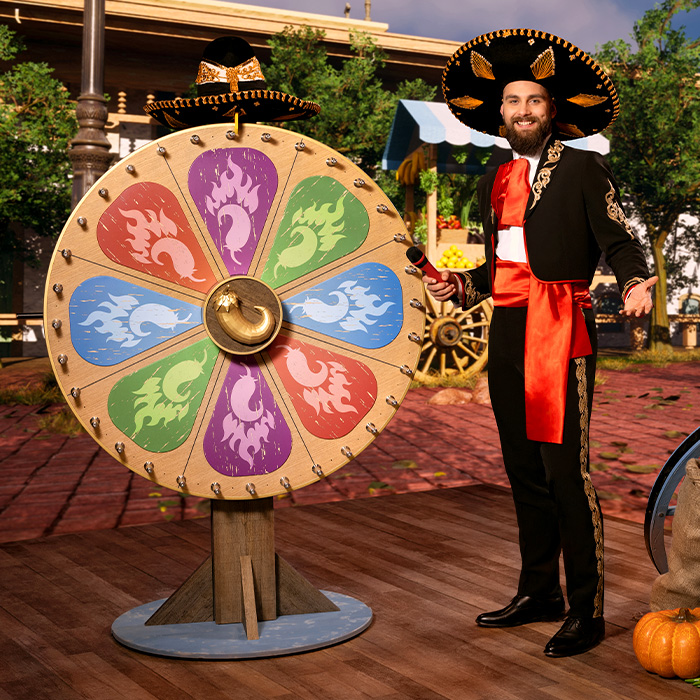 EXTRA CHILLI EPIC SPINS™
Extra Chilli Epic Spins™ brings Big Time Gaming's renowned Megaways™ slot with Free Spins to the live game show studio and combines it with an entertaining Piñata and Gamble Wheels feature to increase the anticipation and fun.
The Base Game and Free Spins phase requires you to gather at least three matching symbols or at least two purple chillies, which are the superior symbols to win. The 'WILD' symbol substitutes any symbol, boosting your chances of making winning combinations.
The game offers opportunities to receive multipliers. You may be awarded them in the Base Game, Free Spins or in the most exciting feature of this game – the smashing of the Piñata. Once smashed, the colourful Piñata will reveal either additional multipliers up to 20x or the whole word 'HOT', granting you 8 Free Spins.
The zesty Gamble Wheels phase will allow you to receive up to 4 additional Free Spins. All you must do is guess correctly what colour segment the Gamble Wheel flapper will stop at.
Head to the Mexican market to find the hottest chilli ever and enjoy some zesty fun!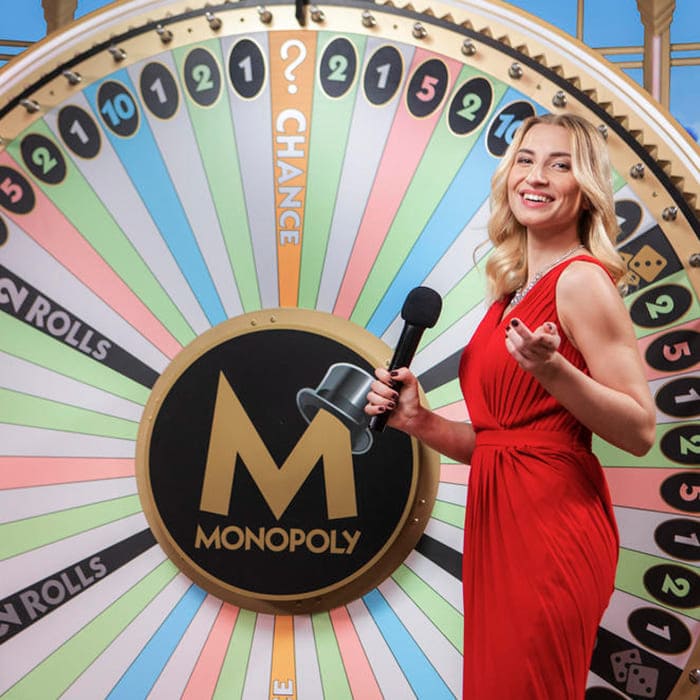 MONOPOLY LIVE
Created in partnership with Hasbro and exclusive to Evolution, MONOPOLY Live is a unique live online variant of the hugely popular MONOPOLY board game.
In this special MONOPOLY edition of our Dream Catcher money wheel, players simply bet on the number they think the wheel will stop at. The money wheel has been further developed to feature the 'CHANCE' and '2 ROLLS' segments which offer instant cash prizes, multipliers, and entry into a 3D Bonus game. When the Bonus game is activated, qualifying players join MR. MONOPOLY as he enters his augmented reality 3D MONOPOLY world and steps around the 3D MONOPOLY board collecting prizes, multipliers and more.
Learn more about MONOPOLY Live.
Legal disclaimer: The MONOPOLY name and logo, the distinctive design of the game board, the four corner squares, the MR. MONOPOLY name and character as well as each of the distinctive elements of the board and the playing pieces are trademarks of Hasbro for its property trading game and game equipment. ©1935, 2020 Hasbro. All rights reserved. Used with permission.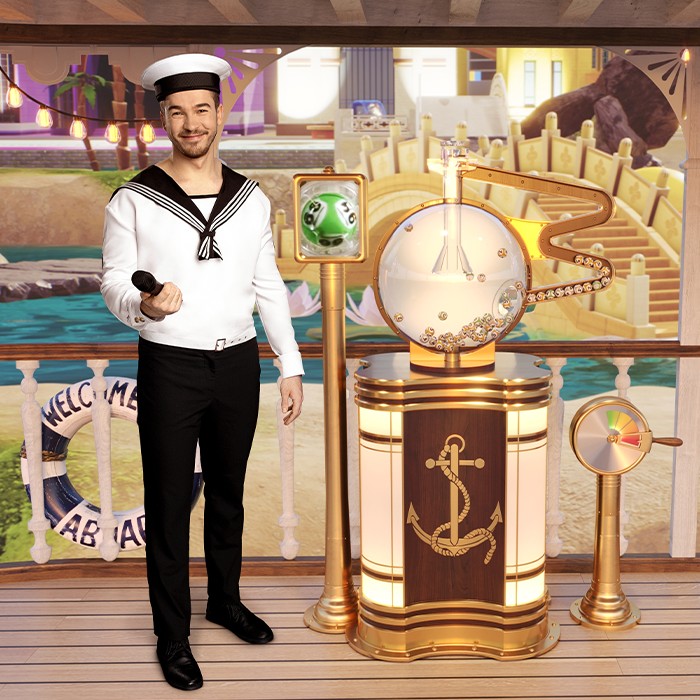 MONOPOLY BIG BALLER
Get ready to jump aboard and be entertained in this upbeat bingo-style game show with an exciting Bonus Game. Set on a riverboat, this MONOPOLY-based game raises the excitement levels as MR. MONOPOLY takes charge and pulls a lever to generate multipliers and Free Spaces on the cards.
The initial action centres on an eye-catching ball-drawing machine. Twenty random balls are drawn – and if the number of the drawn ball matches a number on any of a player's cards, a daub is automatically placed on that number.
Match your numbers and complete one or more lines to win. And if you win on a Bonus card, you'll enter the virtual MONOPOLY world, where MR. MONOPOLY will walk around the 3D MONOPOLY board to collect multiplier prizes on your behalf.
Learn more about MONOPOLY Big Baller.
MONOPOLY TM, © & 1935, 2022 Hasbro.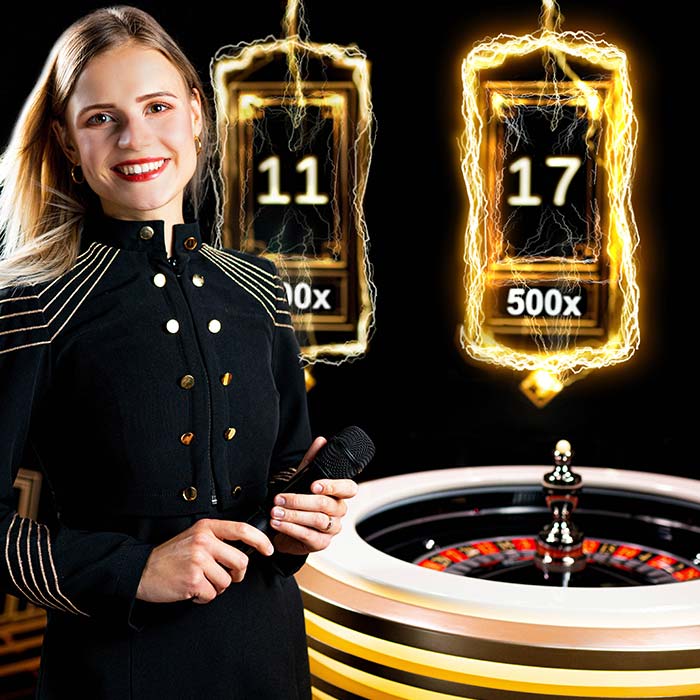 LIGHTNING ROULETTE
Light up your Live Casino with the first game in our Lightning family, a revolutionised extended Roulette game that offers a unique and electrifying player experience.
Lighting Roulette is an innovative and revolutionised award-winning Roulette game from Evolution that has become the biggest Live Roulette table in the world – both for land-based and online.
There are extra chances to win with added high-payout RNG Lucky Numbers and Lucky Payouts. In each game round, between one and five Lucky Numbers are struck by lightning and given multipliers of between 50x and 500x on a Straight Up bet.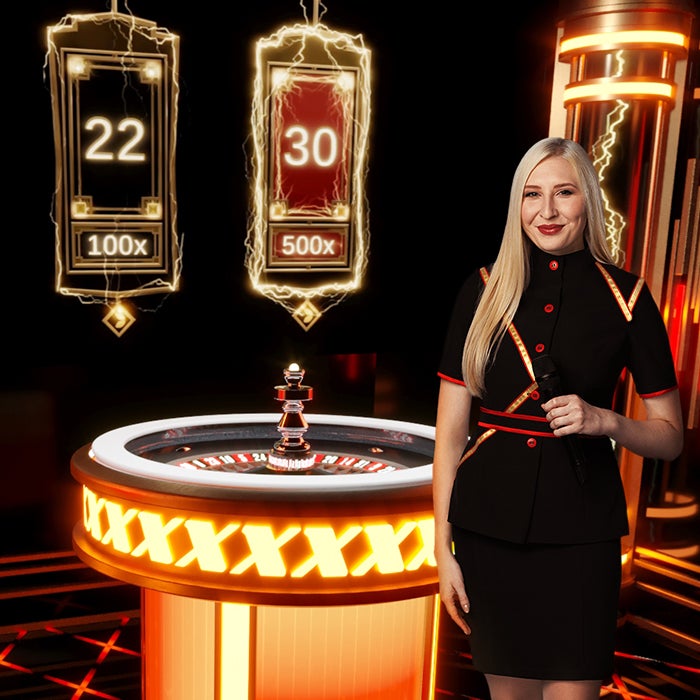 XXXTREME LIGHTNING ROULETTE
This ground-breaking version of our award-winning Lightning Roulette adds extreme Chain Lightning and multipliers up to 2,000x!
Similar to Lightning Roulette, one to five Lightning Numbers with randomly assigned multipliers from 50x up to 500x are generated.
But what makes this game even more suspenseful is the Chain Lightning, which can strike up to nine additional Chain Lightning Number bet spots – potentially creating up to 10 lucky bet spots in total per game round.
As if that's not enough, the second round of lightning called Double Strikes can increase existing multipliers up to 2,000x.
Learn more about XXXtreme Lightning Roulette.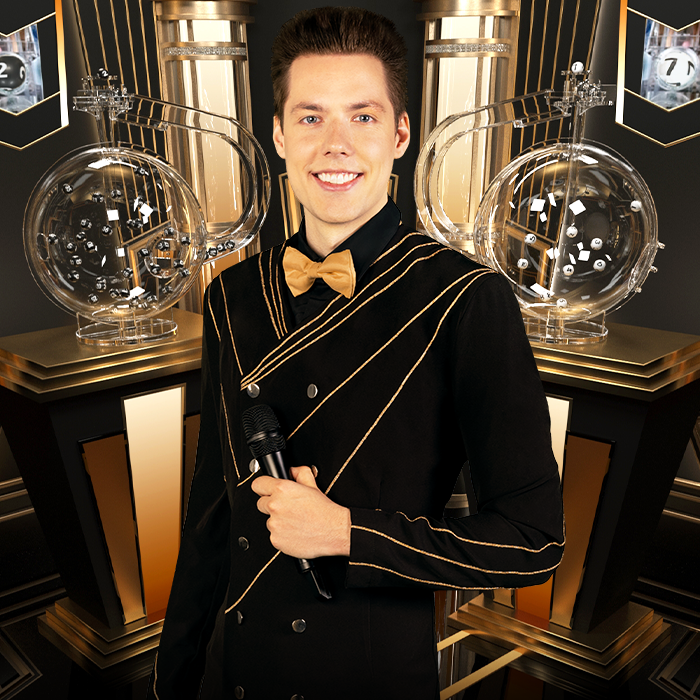 LIGHTNING LOTTO
Lightning Lotto delivers a great live casino experience and a new twist to the traditional bouncing-ball game! Lightning Lotto takes the classic lotto gameplay one step further by introducing two ball machines, guaranteed Lucky Lightning numbers and an electrifying ambience.
Boost your winning potential by purchasing up to 500 cards per game round, and watch up to two numbers from the first ball machine being struck by Lightning. If your ticket holds a Lightning number, the entire ticket will receive a random multiplier from 2x to 10, unlocking the potential for multiplied payouts.
Six balls are then drawn – five balls from the first drum, and one Powerball from the second drum. The single Powerball boosts the chance of drawing numbers 1-10 and getting more numbers matched.
You win if you have matched three or more numbers per ticket. If your ticket was a Lightning ticket, your payout will be multiplied accordingly. Read more about Lightning Lotto.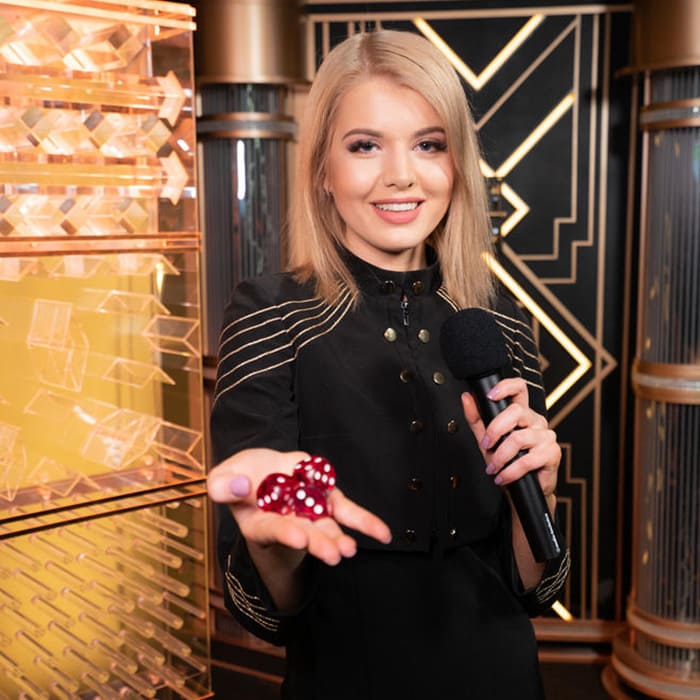 LIGHTNING DICE
A unique, first-of-its kind game, Lighting Dice has huge appeal not only to casino table game players but also to fans of slots and bingo. Central to the game's lightning theme are RNG-based random multipliers up to 1000x.
In Lightning Dice, three standard dice are dropped into a 'Lightning Tower' by the game presenter. Before the drop, players simply bet on what the total of the three dice will be by placing bets on the betting grid.
After betting time has expired, lightning strikes between one and several random 'Lightning Numbers' on the betting grid with a random multiplier of up to 1000x, giving the players the chance to win multiplied payouts!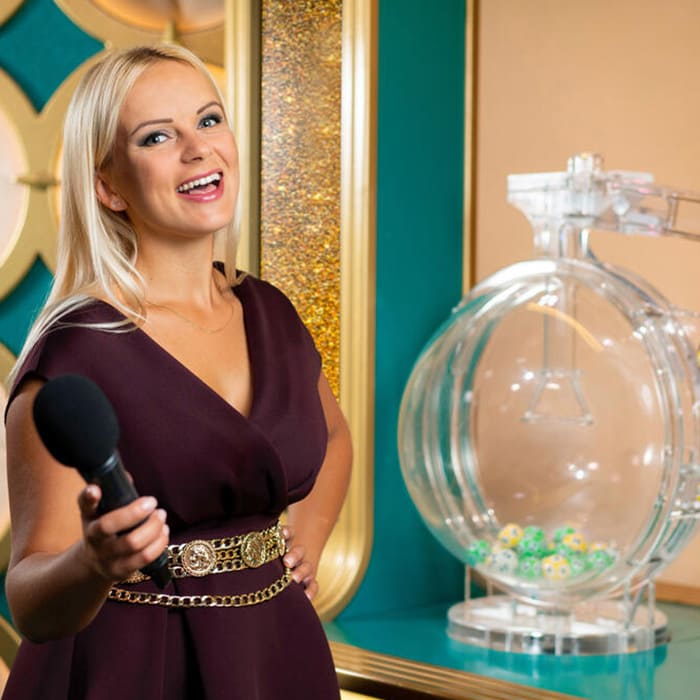 MEGA BALL
This dazzling game show, available exclusively from Evolution, is set in a vibrant and colourful studio, an environment that perfectly frames the main attraction, our custom-built ball drawing machine, which houses the 51 multi-coloured numbered balls. The Mega Ball at the end adds excitement with the opportunity to multiply your winnings!
This exciting and fast-paced game is exceptionally simple to play. All players need to do is set the value of their cards and purchase their desired number of cards, up to 400 per game round. The anticipation builds as they watch the balls drawn match with those shown on their cards, to make lines and potentially win!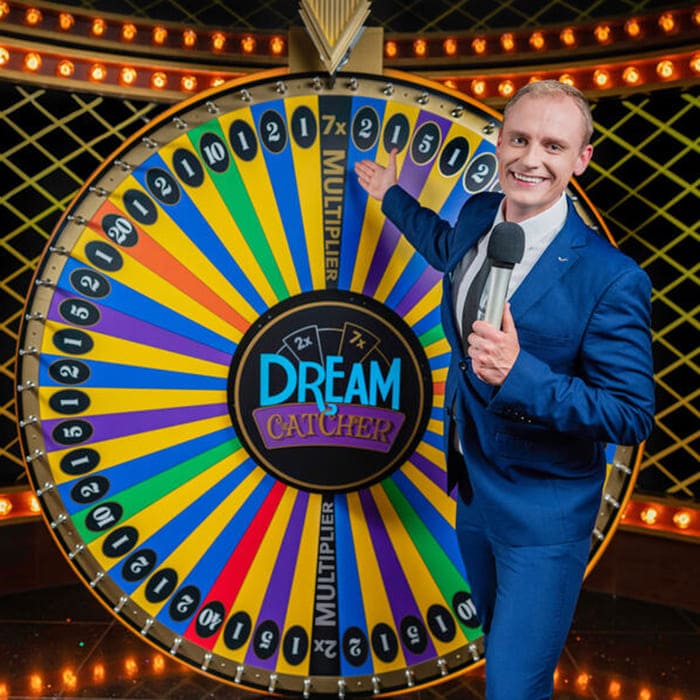 DREAM CATCHER
Dream Catcher was the exciting first title in our Game Shows category, presenting a live money wheel operated by a game presenter. This tantalising game is easy to play and has huge appeal to slot players.
Players can enjoy a fully immersive gaming experience through a multi-camera studio installation. The game presenter spins the wheel and interacts with players throughout. Players simply bet on the number they think the wheel will stop at: 1, 2, 5, 10, 20 or 40. If the player bets on the correct number they win a corresponding payout (e.g. 1 to 1, 2 to 1, 5 to 1, and so on).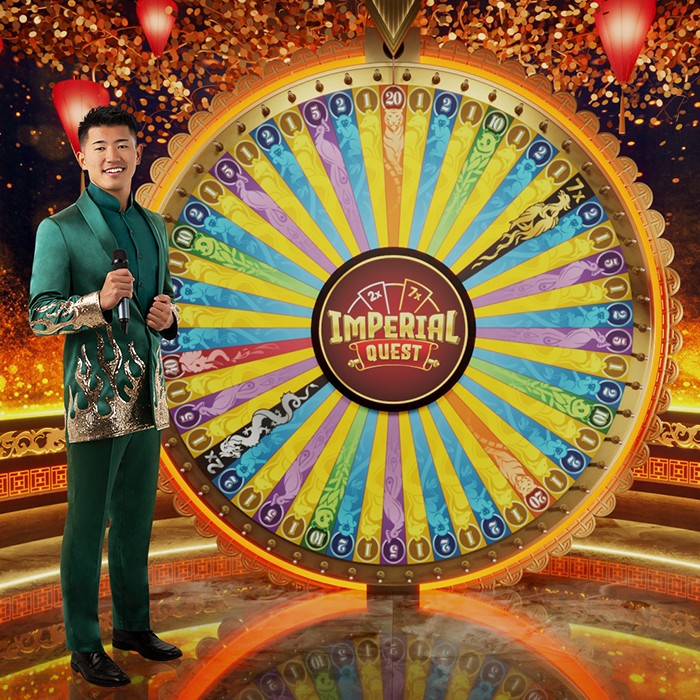 Imperial Quest
Imperial Quest is developed with the same game rules and flow as our hugely popular Dream Catcher money wheel game, with Asian players in mind. Offering highly polished live game show and immersive gameplay.

The eye-catching wheel consists of 54 coloured segments represented by various lucky animals from Chinese mythology. The two most omnipotent creatures, the Dragon and the Phoenix, symbolise the multipliers.

Set in a stunning, state-of-the-art environment, Imperial Quest offers English and Mandarin-speaking game hosts.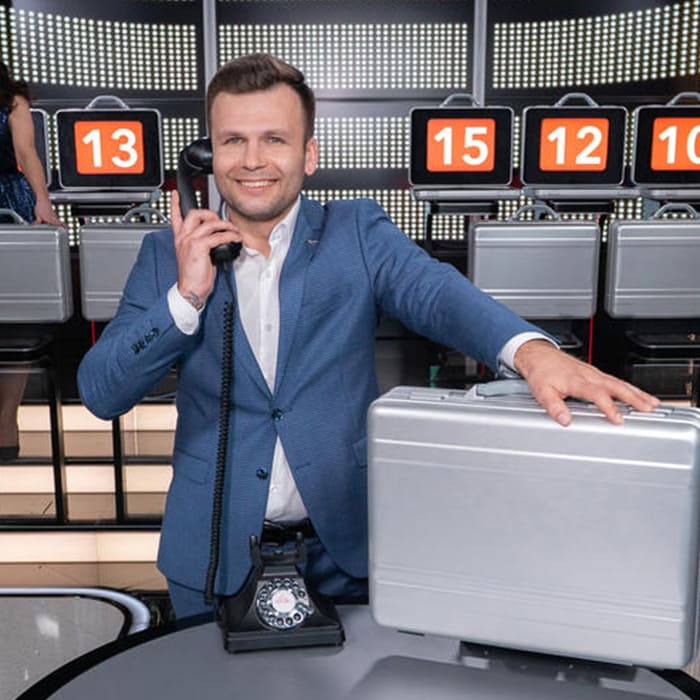 DEAL OR NO DEAL LIVE
Exclusive to Evolution and created in partnership with Endemol Shine Group, Deal or No Deal Live is a live online version of the world-famous TV game show. It's a multi-layered live game that offers non-stop 24-hour fun with unique prize multipliers and an unlimited number of online players.
First up, players spin a three-reel bank vault through the RNG-based qualifying round, each spin sets the amount of money in the biggest prize briefcase by 75x-500x. Once qualified, players enter the prize top-up round in which random multipliers between 5x- 50x increase the prize money in their one or more of the 16 briefcases of their choice. Players may choose to top up the amount of money in any of the briefcases by 5x–50x their bet.
In the thrilling game show, the player is confronted with 16 sealed briefcases containing varying amounts of cash. The excitement mounts as briefcases are opened and their numbers revealed. After each set of briefcase openings, 'the Banker' offers a cash amount in exchange for what might be contained in the contestant's briefcase – prompting the host to ask the all-important question: 'Deal or No Deal?'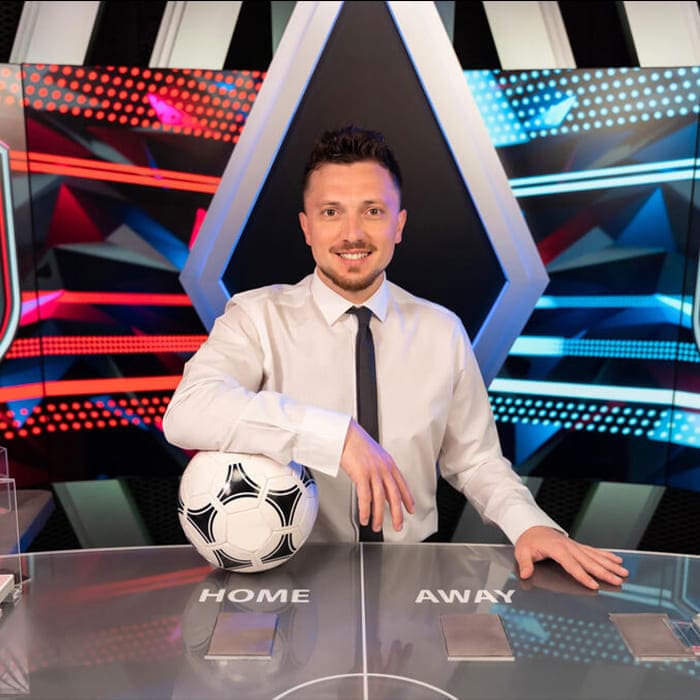 FOOTBALL STUDIO
Set in a football-themed environment, our game hosts engage in match commentary, goal celebrations and football chat whilst they deal the game. Football Studio is sure to appeal to your Sportsbook customers, as well as to a huge football fan base.
Just two cards are dealt, face-up on an interactive light-up football pitch-style table in games linked to real live football fixtures. Players simply bet on a Home Win, Away Win or Draw. Winning hands trigger lighting effects in the studio. In addition, the backdrop builds player anticipation showing the winning streaks for either Home or Away.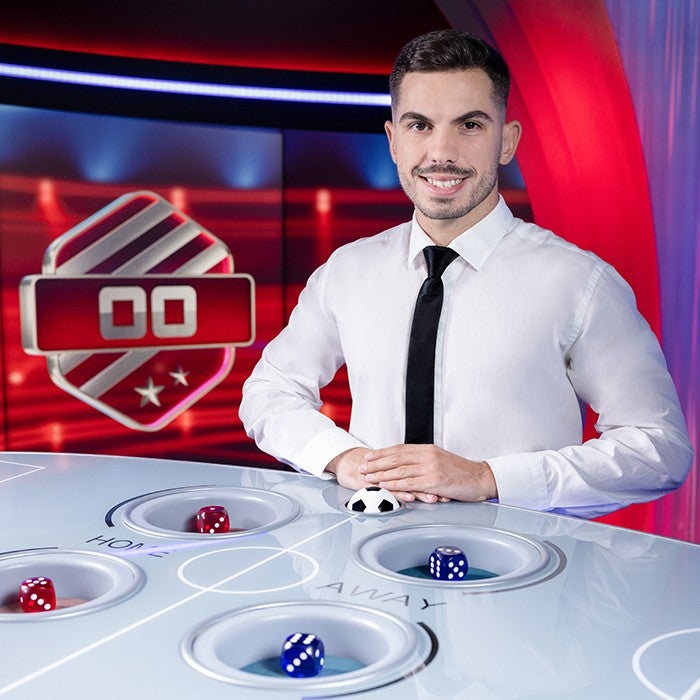 FOOTBALL STUDIO DICE
Football Studio Dice is a unique and entertaining football-themed game show for players who get
a kick out of football and want fast and simple gameplay. Football Studio Dice adds the emotions and atmosphere of a live football match, where you can cheer for the HOME or AWAY side and also engage with our game hosts and throw yourself into the football conversation.
HOME and AWAY scores are made up of the sum of two dice, automatically shaken in four individual shakers, two for each side. The highest two-dice total wins. But, just like a real football match, it's a game of two halves. Even if a player loses the 'First Half' dice shake, there's always the chance to come from behind in the 'Second Half' dice shake. Additionally, the game offers a DRAW payout of up to 80x.
Learn more about Football Studio Dice.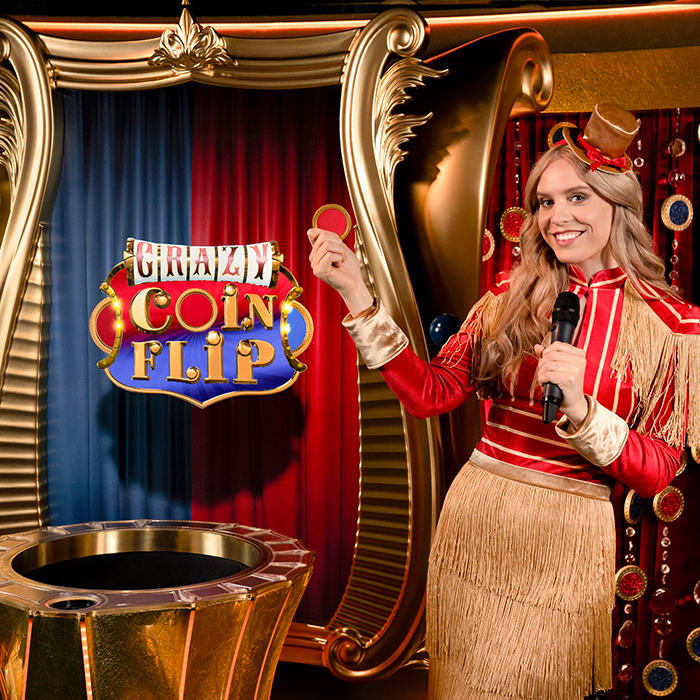 CRAZY COIN FLIP
A one-of-a-kind game concept that provides the best of two worlds – RNG slots fused with a thrilling live game show experience. It's big, bright and crammed with fun and anticipation!
Crazy Coin Flip consists of three game phases – qualifying slot, against-the-clock Top-Up slot and the live bonus round, where you find out which side of the coin is the lucky one!
Accumulate multipliers throughout both slot phases and bring them over to the live bonus round. The Top-Up phase allows you to boost your multipliers by collecting three coins of the same colour. And if that's not enough, more random multipliers are generated in the live bonus round. Then, once the game host flips the coin, the winning coin side is determined and your base bet is multiplied by that coin side's accumulated multiplier value.
Learn more about Crazy Coin Flip.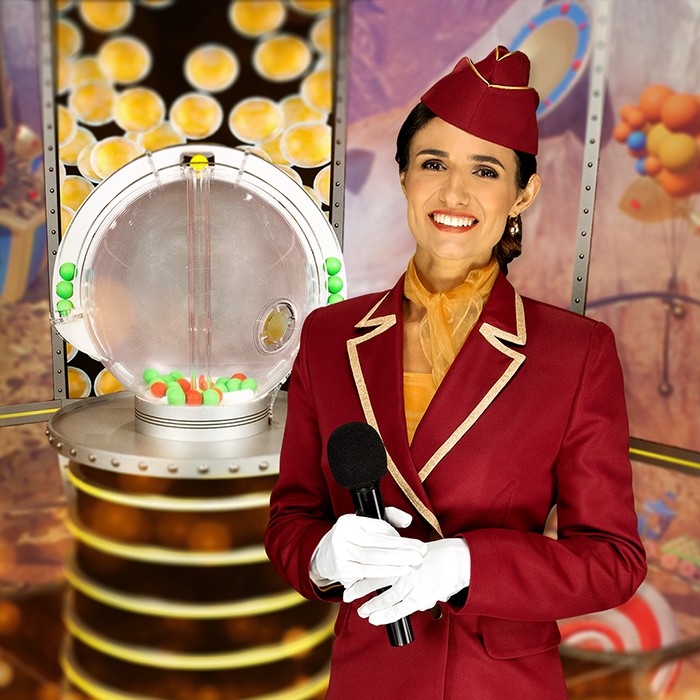 CASH OR CRASH
This exciting ball drawing game takes you on a fantastic journey in a wonderfully realistic studio environment with augmented reality heightening the immersive experience.
Place one bet for the chance to climb higher up the paytable for increased winnings. As the ball drawing machine selects coloured balls randomly, you are propelled higher up in the sky. On the journey you decide: do you want to Continue, Take Half or Take All? A green ball means it's time to make a decision, and if you choose to Continue, you can see your potential winnings increase. A gold ball activates a shield, protecting you from the next red ball and increasing the payouts on the paytable. In addition, you receive a one-time protection from the game-ending effect of the red ball. A red ball will cause the blimp to crash unless you catch a gold ball and receive a Shield.
Climb to the top of the paytable, and you can win up to 18,000x – or up to 50,000x if you've drawn the gold ball!
Learn more about Cash or Crash.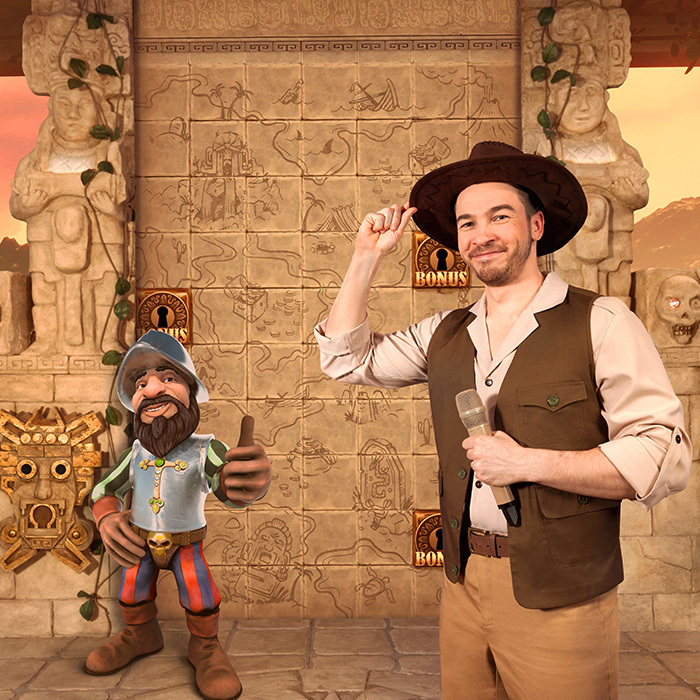 GONZO'S TREASURE MAP
Gonzo's Treasure Map is a unique game show where Gonzo joins forces with our live game hosts in an exciting quest for hidden treasures.
The objective of the game is to predict which map tiles will be hit by the Gold and Multiplier blocks and to uncover stones that hide Gonzo keys.
Five blocks will fall from the Top Slot in each game round, each block presenting a chance for possible wins. If a Gold block lands on your selected tile, your bet will be multiplied by 10x. Should a Multiplier block land on a tile with your bet, your wager will get a 20x boost.
Adding to the anticipation, every game round randomly places three Gonzo keys on the map, which might lead you to the Bonus round.
SEE ALSO
Dedicated Tables and Environments – exclusive to your brand and your operations.