Live baccarat that squeezes maximum thrills
With our Live Baccarat we've taken the thrill and suspense to a new high with a world-class, Macau-like gaming experience for every player type, from first-timers to the most experienced high rollers. Baccarat devotees can enjoy the ultimate in authentic Baccarat play. Numerous features across all game variants, plus the choice of Live Baccarat Squeeze, Live Baccarat Control Squeeze, No Commission Baccarat, Speed Baccarat, Lighting Baccarat and VIP and Salon Privé variants to make this the most authentic and thrilling Live Baccarat available online.
Players can stay on top of their game through live betting statistics and interactive roads. There is a big choice of default and configurable side bets which adds extra excitement and betting opportunities. With Baccarat Multiplay we allow players to place bets at all our Live Baccarat tables in one go.
Whatever Baccarat table your players choose, the gameplay is beautifully optimised for all devices. From our huge range of multi-camera Live Baccarat shared tables to custom-branded dedicated tables, Evolution offers more choice and excitement for everyone.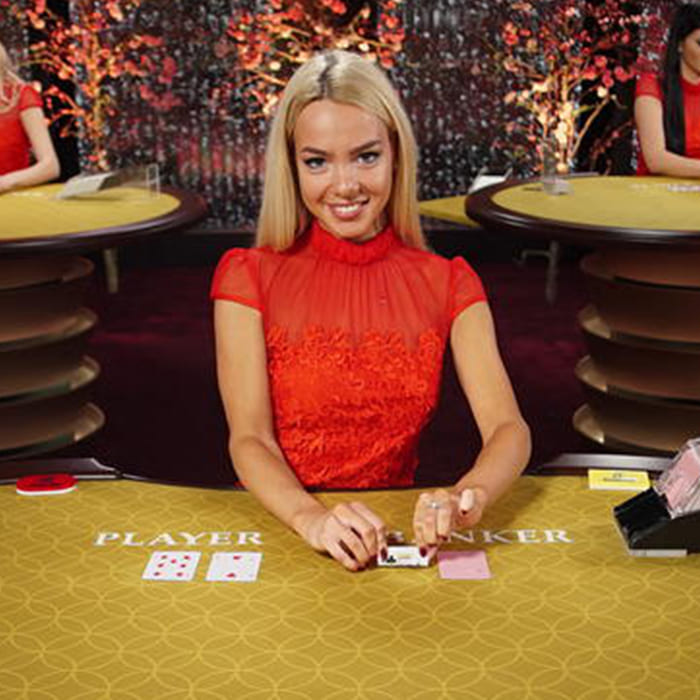 BACCARAT
Our Live Baccarat is so authentic it's just like being table-side at a top Asian casino. With cards dealt face down at a bean-shaped table, there's no more authentic way for players to enjoy Asia's most popular casino table game.
Added features include special bets such as Pairs side bets, extra statistics viewable via a wide choice of roads, and the ability for players to view other players' moves. All of this enriches the playing experience creating a truly authentic and dynamic gaming experience for your players.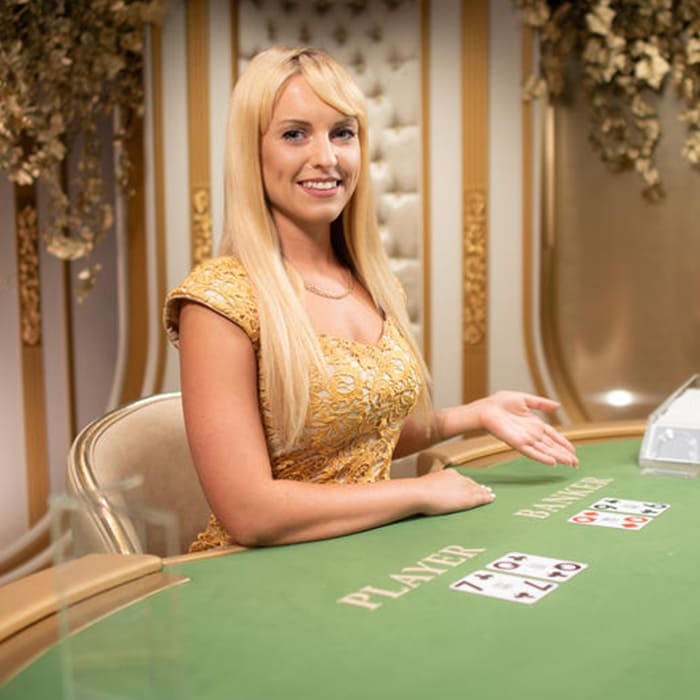 SALON PRIVÉ
Offering the ultimate VIP live gaming experience online, our Salon Privé is a super-elegant, top-end VIP environment. Here your most discerning, high-wagering players (subject to minimum bankroll requirements) can enjoy the very best in live gaming with high maximum bets and enhanced control at one-to-one, single-player private tables.
Heightened levels of VIP customer service include a VIP Room Manager present at all times and the ability for the player to control the choice of dealer, the shuffle, and game speed using the 'Spin Now' and 'Deal Now' buttons.
11 private tables are available: one Salon Privé Live Roulette table, six Salon Privé Live Blackjack tables and four Salon Privé Live Baccarat tables, with each table offering a different minimum bet.
MULTI-CAMERA BACCARAT
A multi-camera installation option that adds a dynamic, cinematic quality to Baccarat play on licensees' dedicated tables.
With this fully customisable variant of our world-class Baccarat, licensees are able to choose the number of cameras and the shot angles. Just like in our Immersive Lite option for Roulette, players are immersed in the drama and suspense of the game. Constantly changing camera views and close-ups of the table and the deal keep it all visually fresh and engaging. Also, for licensees with multiple dedicated tables, the camera set-up can be configured to enable brief cutaway shots of other tables to further enhance the 'real casino' ambience.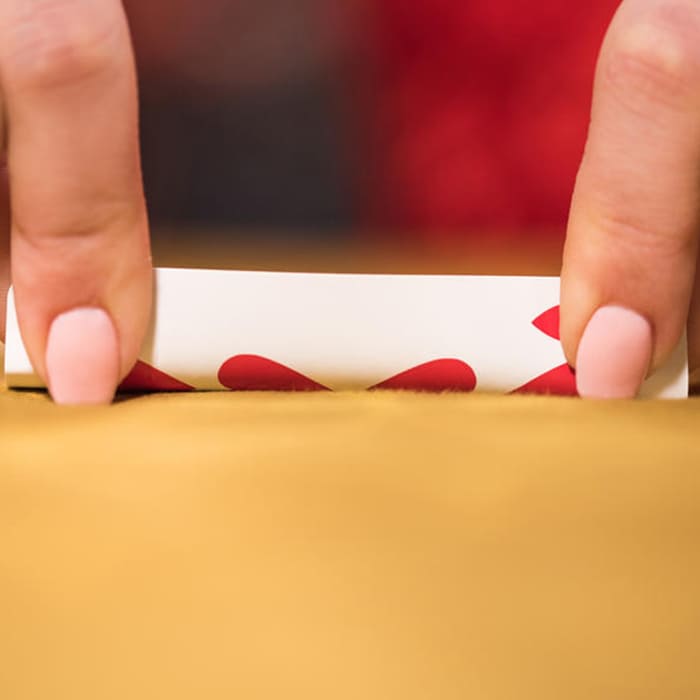 LIVE BACCARAT SQUEEZE
This is the ultimate multi-camera Live Baccarat for devotees who love the ritual of the squeeze. 15+ cameras capture every subtle nuance of the game, with the vital squeeze itself performed by the dealer captured in a series of tantalising close-ups.
Taking online Baccarat play into a new dimension, Evolution Baccarat Squeeze keeps the action flowing while delivering maximum suspense and authenticity. The dealer quickly reveals cards for the hand associated with the lesser total wager and will squeeze cards dealt to the hand associated with the greatest total wager.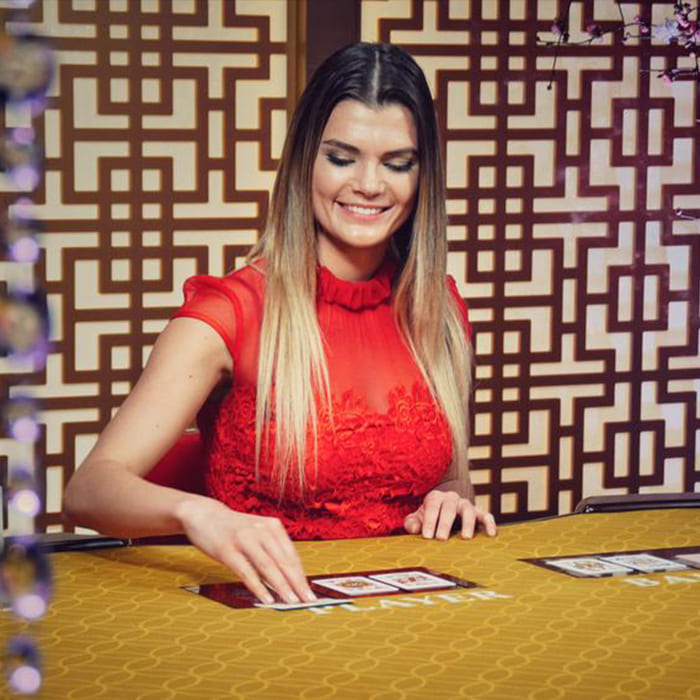 LIVE BACCARAT CONTROL SQUEEZE
In this variant, players can take control of the squeeze themselves. Cards are dealt face-down onto glass panel inlays in the custom-designed table. Two cameras integrated under the table instantly relay the live stream of the real card faces to the player's screen.
The card faces are obscured by optical filters and an overlay mask built into the game's UI. Players simply click or tap on the corner or any edge of each card to peel back the overlay mask and reveal the card value. It's a truly Macau-like VIP gaming experience that puts the unique thrill of the squeeze at your players' fingertips.
This direct interaction with the cards makes this game every bit as exciting as playing Baccarat in a real casino. There's even the opportunity for new players to practise the squeeze without the need to place a bet.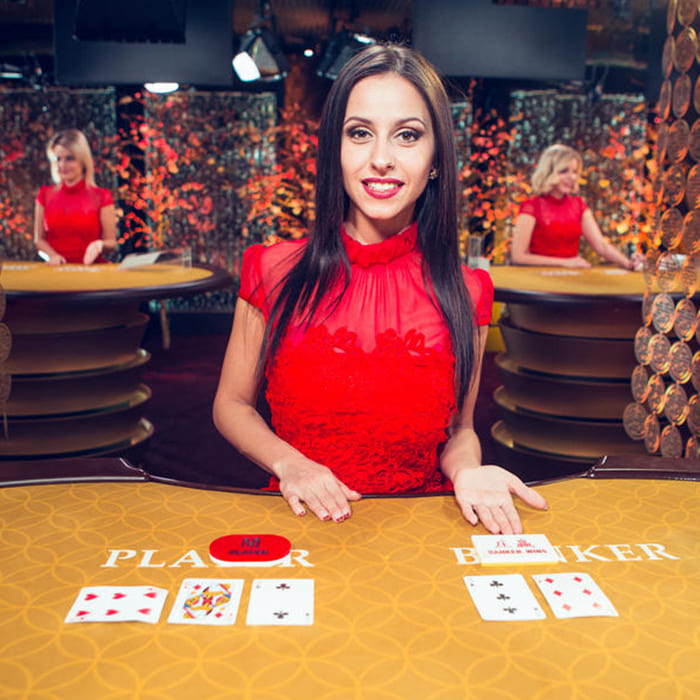 SPEED BACCARAT
For players looking for maximum betting opportunities and excitement in their playing sessions, Live Speed Baccarat is a superb alternative to our standard Baccarat game and its many variants.
Whereas a standard Baccarat game round lasts 48 seconds, Live Speed Baccarat really ups the pace. Cards are dealt face-up, results time is kept to a minimum and each game round is completed in a suspense-packed 27 seconds.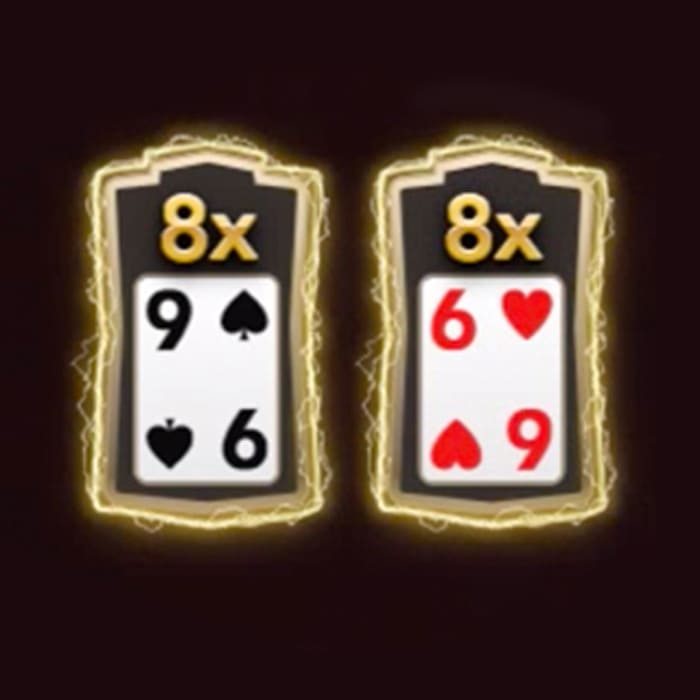 LIGHTNING BACCARAT
Just like our multi-award-winning Lightning Roulette, Evolution Lightning Baccarat is a unique take on a casino classic, super-charged with RNG-based Lightning Card multipliers in every game round.
Lightning Baccarat is an electrifying extended Baccarat game that combines our world-leading Live Baccarat with a chance to win multiplied payouts on a winning hand. In each game round, 1-5 Lightning Cards are randomly generated from a virtual 52-card deck, with each card having a random payout multiplier applied of 2x, 3x, 4x, 5x or 8x. If two or more Lightning cards are dealt to the same bet spot, those multipliers will be multiplied.
A 20% Lightning Fee is added to each player's total bet.
Lightning Baccarat is presented in a stunning black and gold Art Deco environment with an electrifying user interface.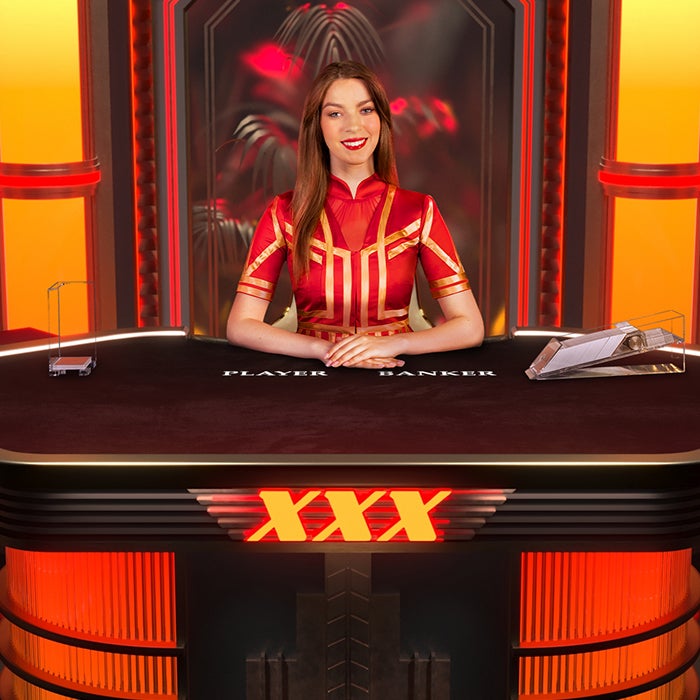 XXXTREME LIGHTNING BACCARAT
XXXtreme Lightning Baccarat is an engaging variant of our popular Lightning Baccarat. Players can experience more Lightning Cards per game round, bigger multipliers, and the biggest potential wins ever seen in a Baccarat game.
In each game round, four to eight random Lightning Cards are generated and assigned a Lightning Multiplier of up to 10x. A 50% fee is added to each player's total bet, and this is displayed in the user interface.
If a player wins on a hand that includes one or more matching Lightning Cards, the winnings are multiplied accordingly. With three matching Lightning Cards, the total winnings could be multiplied by up to 1000x. Even more exciting, a winning bet on a Tie with six matching Lightning Cards can result in a multiplier of 2,850,000x!
Read more about XXXtreme Lightning Baccarat.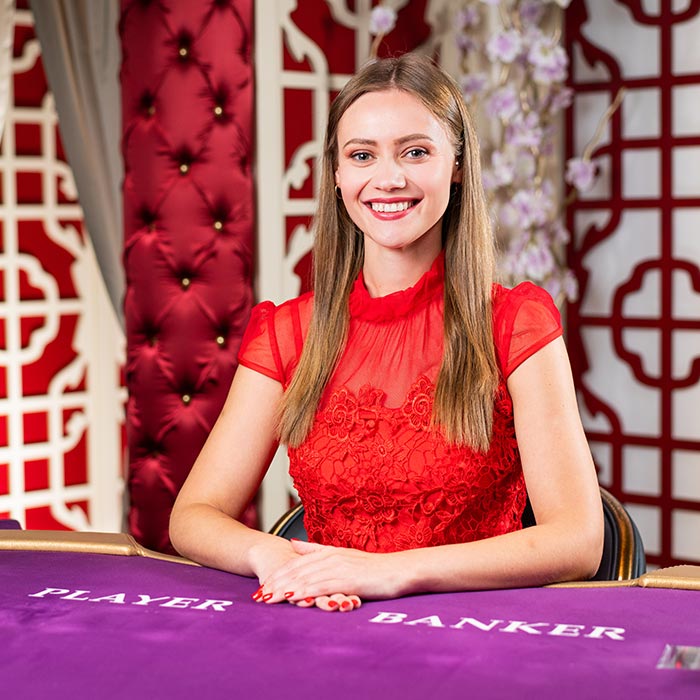 NO COMMISSION BACCARAT
In No Commission Baccarat, there's no 5% commission to pay on Banker wins. The exception is when the Banker scores 6, in which case players are paid half their original bet, or 0.5:1.
Adding extra excitement is the Super 6 insurance side bet. If a player places this bet and the Banker scores a 6, the payout is 15:1.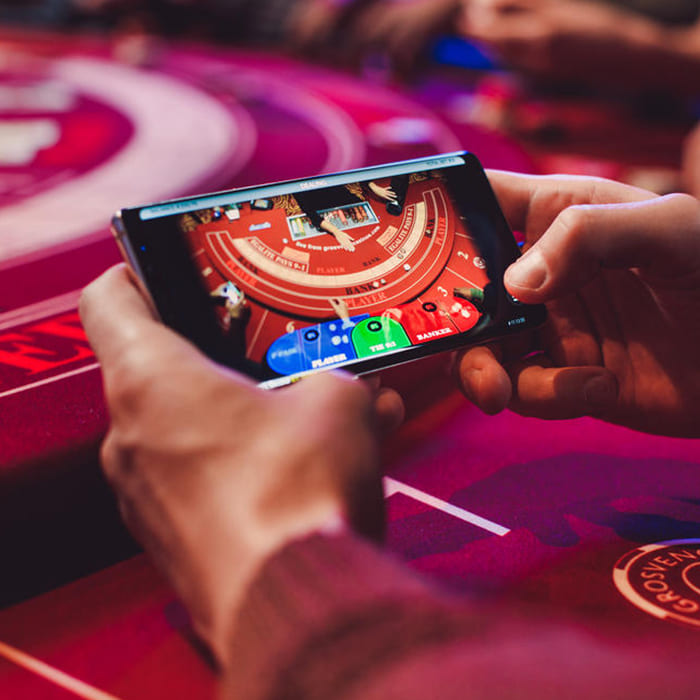 DUAL PLAY BACCARAT
Land-based and online convergence doesn't get any more exciting than this. Dual Play Baccarat adds dual play capability to any Baccarat table in your land-based casino using an advanced camera and sound installation, On-premise seated players and a virtually unlimited number of additional online players from anywhere in the world can then play the same games at the same table. Online players are transported straight onto the gaming floor of some of the world's most iconic casinos, where they can play alongside the on-premise players in the fastest and slickest Dual Play Baccarat solution available.
This makes Dual Play the perfect way to extend service to customers in your venue, while also relaying the unique excitement of your casino and your brand to a greatly extended audience of new players online.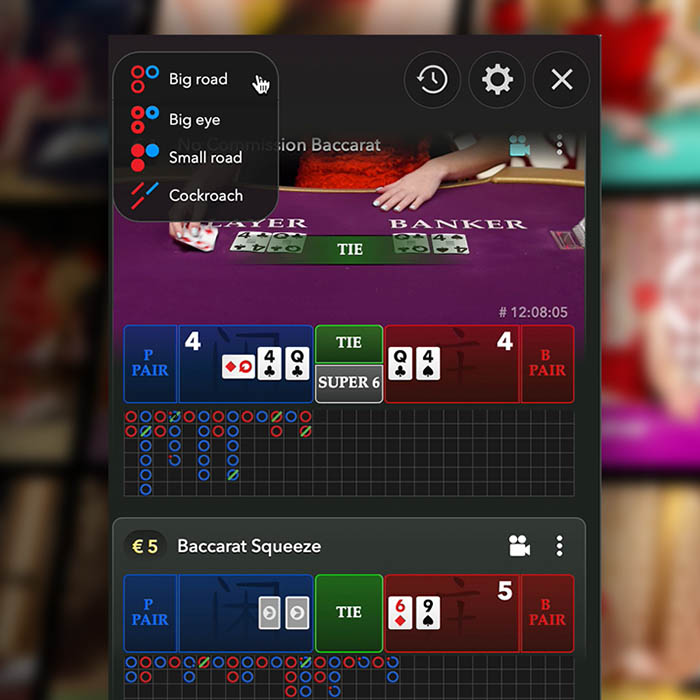 BACCARAT MULTIPLAY
Baccarat Multiplay is our new, simple user interface tool that allows players to place bets at all our Live Baccarat tables in one go, without joining each table separately.
Baccarat Multiplay makes it easy to find the table with the longest streak. With a click of a button, all the tables can be sorted according to the longest streak for the player's chosen road.
Choose which tables to include in the overview. All our Baccarat tables are displayed with a small version of the betting grid, the player's choice of road and the option to view the video or not per table.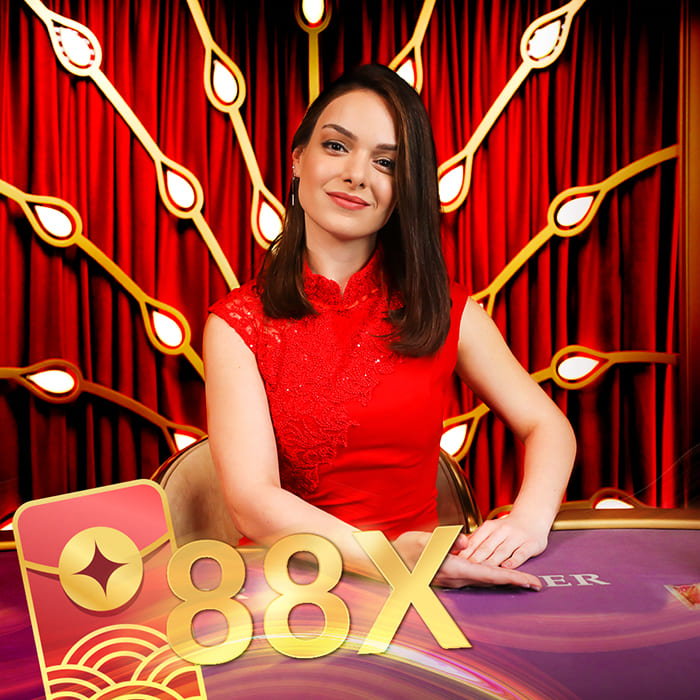 RED ENVELOPE
Red Envelope is an unexpected bonus that may sometimes be generated on either the Tie, Banker Pair or Player Pair bet spots by increasing the payout up to 88x. One, two or three Red Envelopes can be generated for the same round, and they can all have different increased payout values.
Each time the Red Envelope happens, an animation will be visible on the relevant bet spot, showing a red envelope together with a randomly generated increased payout.
If the player's bet is placed on a bet spot with a Red Envelope, and if the player won on that bet, the player will receive a higher payout.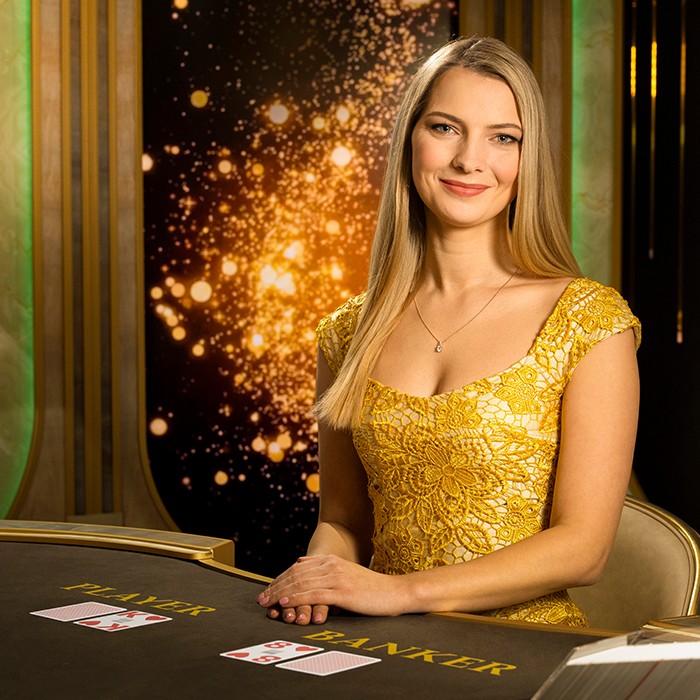 PEEK BACCARAT
The rules are the same as standard Baccarat, however, this game offers the exciting chance to 'peek' at one, two, three or even four cards during gameplay. If the revealed cards are beneficial for your hand, you can choose to double or triple your bet!
Peek Baccarat has a 20% fee when placing a bet on either Player or Banker.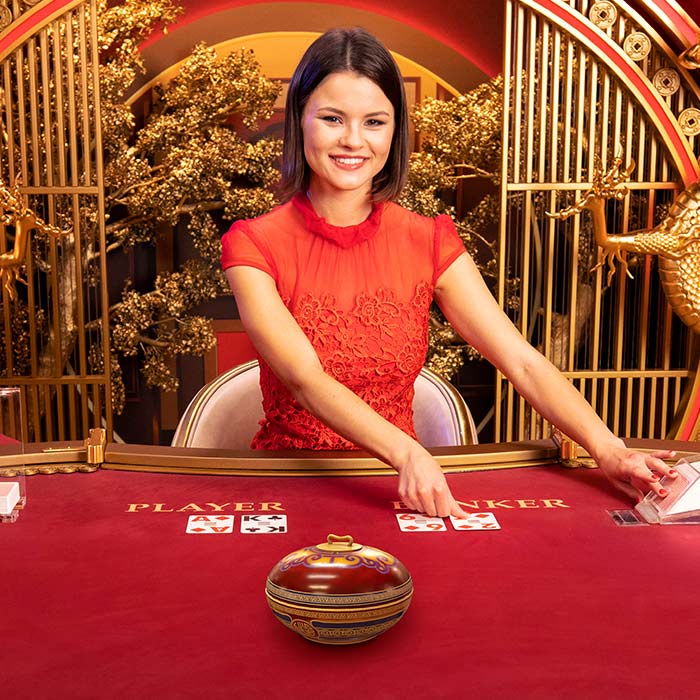 GOLDEN WEALTH BACCARAT
Golden Wealth Baccarat is presented in an elegant setting with a beautiful VIP feel and features an augmented-reality magical pot.
A 20% Golden card fee is taken from each player's bet. Five Golden Cards are included in each game round, and each Golden Card attracts a randomly generated multiplier of 2x, 3x, 5x or 8x. If the player wins on a hand and has one or more matching Golden Cards, their winnings are multiplied accordingly.
All of the Golden Wealth magic is beautifully replicated in a First Person RNG-based version of the game.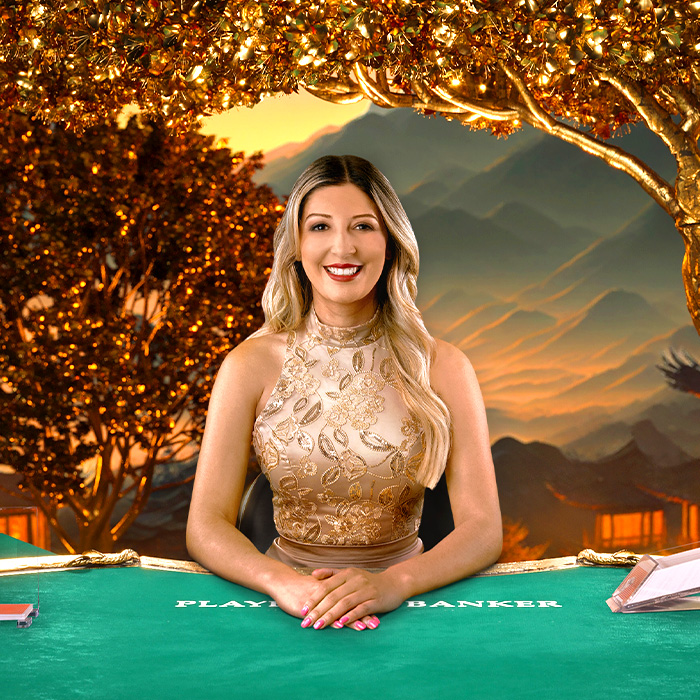 PROSPERITY TREE BACCARAT
Prosperity Tree Baccarat is a unique multiplier variation of the classic Baccarat game, where prosperity in the form of multipliers descends upon you through an iconic tree of wealth.
In Prosperity Tree Baccarat, eight randomly generated Prosperity Cards are generated each game round, featuring multipliers of 2x or 3x. If a player is dealt a card that matches a Prosperity Card, the multiplier is assigned to that hand. If the player wins with a hand featuring one or more Prosperity Cards, their winnings are multiplied accordingly. A 20% fee is applied to the player's total bet, which is displayed in the user interface.
Prosperity Tree Baccarat is also available as a First Person RNG-based version where players can enjoy the game at their own pace.
Features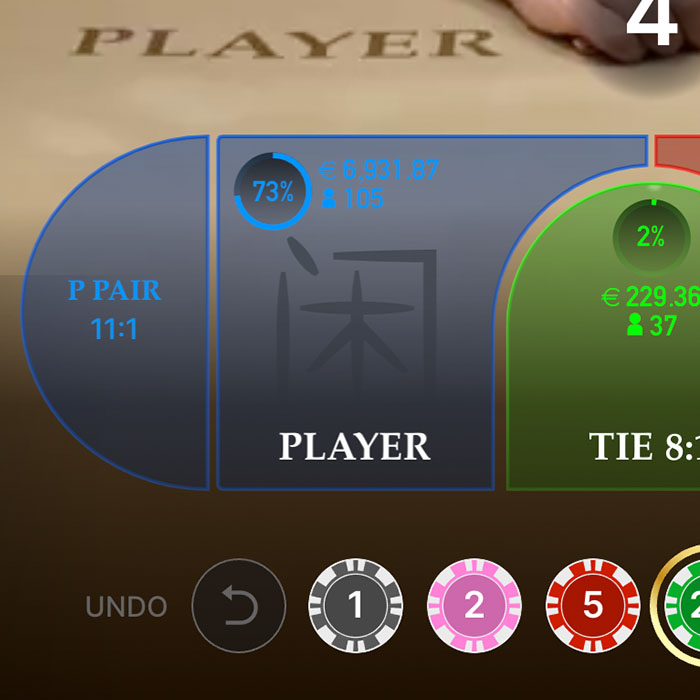 PAIRS SIDE BETS
The Pairs Side Bets are the default side bets providing two additional betting options: Player Pair and Banker Pair. These extra side bets allow a player to bet on either the player's or the banker's first two cards being a pair. The pay-out for either bet is a very attractive 11 to 1.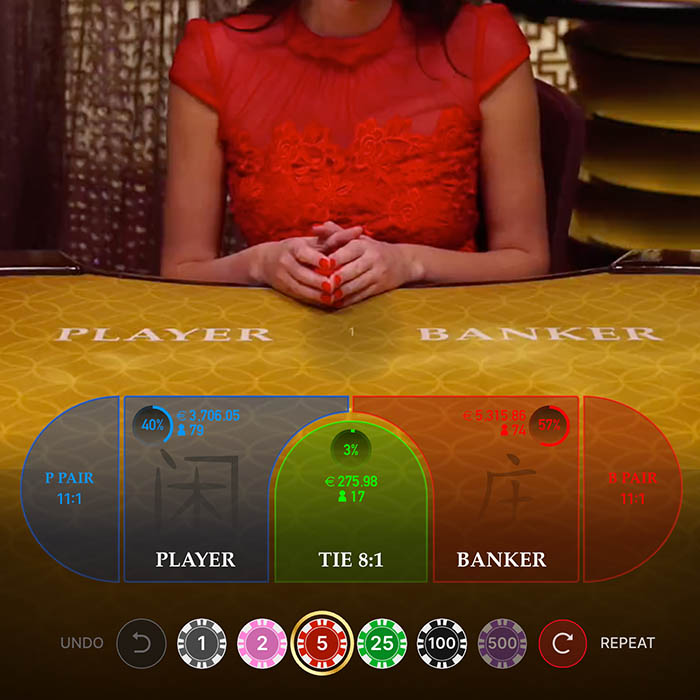 FURTHER OPTIONAL SIDE BETS
Player Bonus, Banker Bonus, Either Pair and Perfect Pairs™ side bets can all be enabled in the game settings by the player. These additional side bets, offering odds of up to 200 to 1 (for Perfect Pair, two pairs), add extra layers of interest and excitement for your players as they become more familiar with the game.
Licensees must choose whether to take these additional side bets. If the Perfect Pairs side bet is chosen, a licensing fee applies.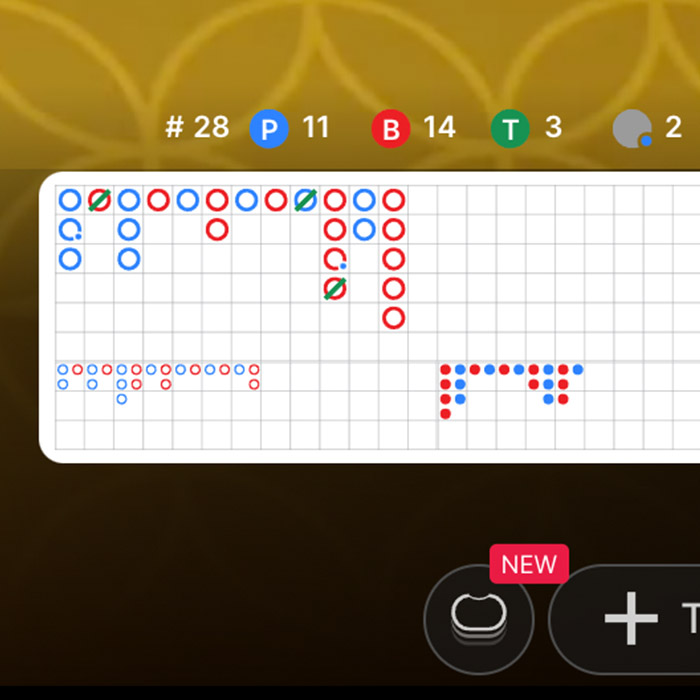 CHOICE OF ROADS
The Bead Road and Big Road display the results of each past round, while the Big Eye Road, Small Road and Cockroach Road display patterns derived from the Big Road. The player can zoom in on Big Road, Big Eye Road, Small Road and Cockroach Road simply by clicking/tapping on them.
SEE ALSO
Dedicated Live Baccarat Tables and Environments – exclusive to your brand and your operations.
First Person Baccarat – also available in our first person range of games.