Explore the wonders of Gonzo's Treasure Map
Join Gonzo, the adventurous Spanish explorer from the popular slot game, Gonzo's Quest™, as he embarks on a new journey in our live game show, Gonzo's Treasure Map. Follow Gonzo as he explores the ancient temple of El Dorado, searching for treasure. Against the backdrop of an Incan world, the game features a giant ancient map with 70 engraved squares. Bet on one or multiple squares and try to uncover Gonzo's riches and receive the opportunity to participate in a Bonus round with guaranteed multipliers!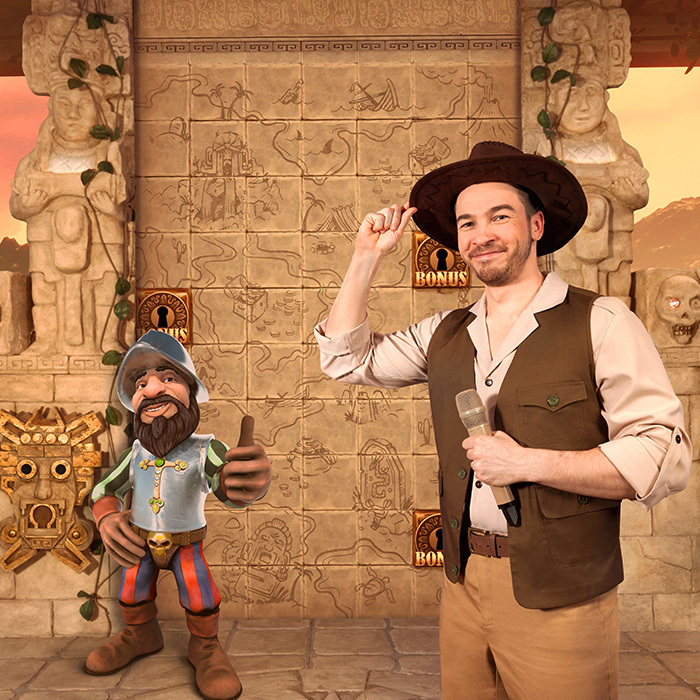 GONZO'S TREASURE MAP
Gonzo's Treasure Map is a unique game show where Gonzo joins forces with our live game hosts in an exciting quest for hidden treasures.
The objective of the game is to predict which map tiles will be hit by the Gold and Multiplier blocks and to uncover stones that hide Gonzo keys.
Five blocks will fall from the Top Slot in each game round, each block presenting a chance for possible wins. If a Gold block lands on your selected tile, your bet will be multiplied by 10x. Should a Multiplier block land on a tile with your bet, your wager will get a 20x boost.
Adding to the anticipation, every game round randomly places three Gonzo keys on the map, which might lead you to the Bonus round.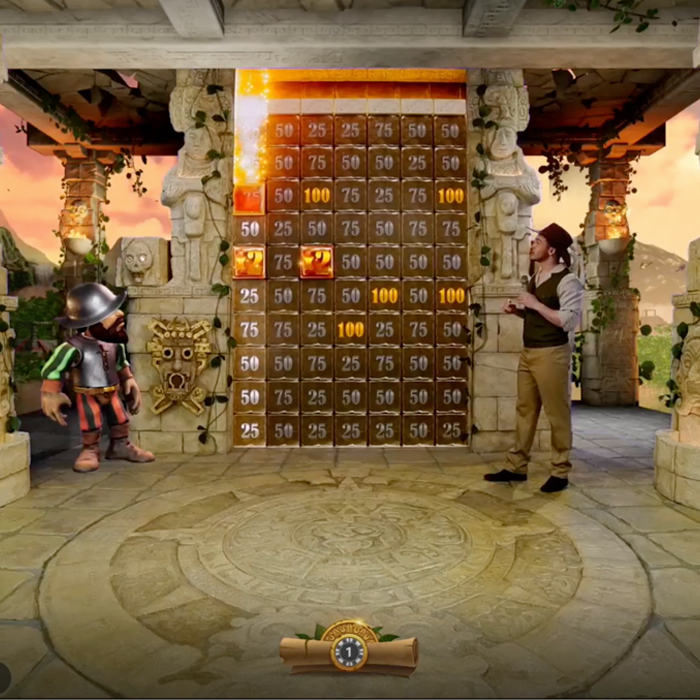 BONUS ROUND
If you're lucky and you discover a stone with a Gonzo key, you'll advance to the Bonus round, where a single falling Ruby block will multiply your winnings.
Gonzo will use his key to reveal a hidden wall filled with multipliers. Keep an eye on the Top Slot because a single Ruby block will emerge and drop onto a random tile, which will determine the value of your won multiplier.
If the Ruby block lands on a multiplier, your bet will be multiplied accordingly. However, if the Ruby block lands on a 'Double' stone, all the multipliers on the wall will double and the Ruby block will drop once again.
Moreover, if your bet is on the Gonzo key stone and the Multiplier block has landed on it, then all the multipliers on the Bonus Round wall are doubled before the Ruby block makes its descent.
SEE ALSO
Game Shows – Our immersive and hugely entertaining range of live Game Shows!
The game categories provided on this website are intended for general informational purposes and the descriptions are not exhaustive in addressing all legal frameworks. We disclaim any liability for any discrepancies and for the use of such descriptions as a sole basis for regulatory approval of games.