[PR] Evolution released today its Year-end Report for January-December 2022.
Fourth quarter of 2022 (Q4 2021)
Operating revenues increased by 36% to EUR 407.5 million (300.2)
EBITDA increased by 35% to EUR 279.5 million (206.9), corresponding to a margin of 68.6% (68.9)
Profit for the period amounted to EUR 223.5 million (171.6)
Earnings per share amounted to EUR 1.05 (0.80)
Full-year 2022 (2021)
Operating revenues increased by 36% to EUR 1,456.7 million (1,068.8)
EBITDA increased by 37% to EUR 1,008.4 million (734.7), corresponding to a margin of 69.2% (68.7)
Profit for the year amounted to EUR 843.4 million (605.4)
Earnings per share amounted to EUR 3.95 (2.83)
The Board proposes a dividend of EUR 2.00 per share (1.42)
Summary of the fourth quarter and the full-year 2022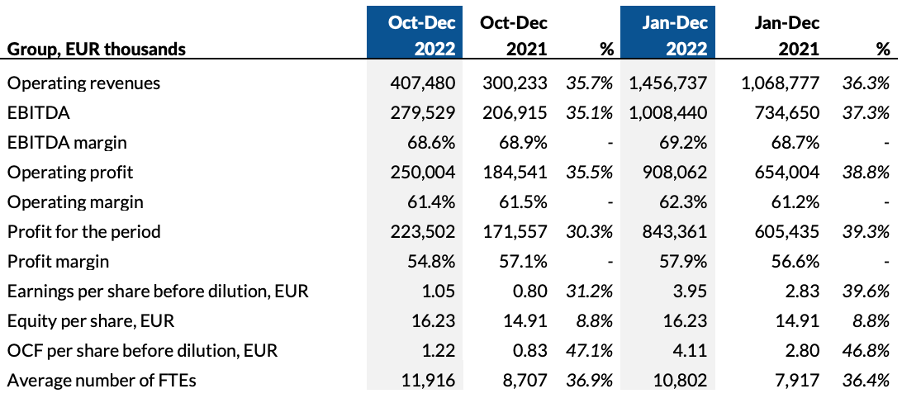 Comments from CEO Martin Carlesund:
We wrapped-up a strong financial year 2022 with a very good fourth quarter. This despite the challenging market environment reflected in the war in Ukraine, rising inflation, lower consumer confidence and remaining COVID-effects on supply chains – all of which are currently impacting the recovery of the post pandemic world economy. The employees at Evolution have once again shown extraordinary focus on the task at hand and done great work in these challenging market conditions – Thank you!
We remain firmly anchored and we continue to deliver according to our plans with the everlasting ambition to always perform better. Revenues in the fourth quarter of 2022 amounted to EUR 407.5 million, an increase of 35.7 percent compared to last year. EBITDA amounted to EUR 279.5 million, corresponding to a margin of 68.6 percent in the fourth quarter. Full year EBITDA margin was 69.2 percent, this is at the lower end of our guidance of 69-71 percent. In the very challenging market conditions of 2022, 69.2 percent margin reflects our competitive offering and strong execution during the past year.
As we now move into 2023, we expect an EBITDA-margin in the range of 68-71 percent for the full-year 2023. Given the high level of uncertainty in the world we give a slightly wider range for our guidance compared to previous year.
In the quarter, top-line growth continued to be driven by strong demand for Live Casino. Live Casino revenue increased by 41.1 percent year-on-year – which is very strong. Among many recent successful releases 2022 we see games like Monopoly Big Baller driving demand and increasing the entertainment factor for the end-user.
RNG revenue increased by 5.1 percent compared to pro-forma figures for last year. Performance is still below our expectations. The throughput of new games remains on the softer side and as we move forward, we need to improve efficiency as well as quality in our own production. The path to double digit-growth will not be linear – as we have communicated earlier – but we can do better and I really look forward to 2023.
With a strong fourth quarter, with many new titles including Live games such as Dead or Alive Saloon, Football Studio Dice and Freebet Blackjack together with RNG games such as Cupcakes from NetEnt, Christmas Bonanza from BTG, Shadow Society from RedTiger and Dead Canary from Nolimit City, we delivered on the 2022 target of 88 new game releases. I am very happy with the delivery in Q4.
For 2023 we plan to release over 100 games. Some of the highlights will be presented at the ICE trade show next week, among the games showcased will be our biggest, most complex game show ever. This release takes the player experience yet again to a completely new level! I am very excited about this release and hope that this fantastic game will get players full attention and also attract new players outside the current definition of Online Casino.
In terms of regional development, all regions reported year-on-year growth. We truly have a global audience for our offering. To continue the global expansion, we have continued to invest in studio expansion in Q4. During the quarter we launched the second New Jersey Live Casino studio – an important landmark for our North American operations. This years' studio investments increased significantly compared to 2021 and were fully in line with our plans. We continue to power online casinos around the world, and we increased the number of live tables by over 300 during the year, to a total of over 1,300 live tables at the end of 2022. For 2023 we will continue to invest in studio expansion, both in our existing locations and I also expect 1-2 new locations.
In these times I am proud to say that we are a financially very strong, an all-equity financed company with a solid balance sheet and strong cash flow. As the end result of a good 2022, the board of directors propose a dividend of EUR 2.00 (1.42) per share for 2022, in line with the dividend policy to distribute dividend of 50 percent of net profit annually.
As we move into 2023, our strategy and core values remain unchanged – for us at Evolution it is always about striving to be a little bit better, every day of the year, so that we can continue to widen the gap to competition and as I already stated, I very much look forward to an exciting 2023.

Presentation for investors, analysts and the media
CEO Martin Carlesund and CFO Jacob Kaplan will present the report and answer questions on Thursday, 2 February 2023 at 09:00 am CET via a telephone conference. The presentation will be in English and can also be followed online. Number for participation by telephone:
SE +46 8 505 163 86
UK: +44 20 319 84884
US: +1 412 317 6300
Pin code: 0309901#
Follow the presentation at: https://ir.financialhearings.com/evolution-gaming-group-q4-2022
For further information, please contact:
Jacob Kaplan, CFO, ir@evolution.com.