[PR] Evolution released today its Year-end Report for January-December 2021.
Fourth quarter of 2021 (Q4 2020)
Operating revenues increased by 69% to EUR 300.2 million (177.7)
EBITDA increased by 115% to EUR 206.9 million (96.2), corresponding to a margin of 68.9% (54.2)
Profit for the period amounted to EUR 171.6 million (80.6)
Earnings per share amounted to EUR 0.80 (0.42)
Full-year 2021 (2020)
Operating revenues increased by 90% to EUR 1,068.8 million (561.1)
EBITDA increased by 121% to EUR 734.7 million (332.2), corresponding to a margin of 68.7% (59.2)
Profit for the year amounted to EUR 605.4 million (284.6)
Earnings per share amounted to EUR 2.83 (1.55)
The Board proposes a dividend of EUR 1.42 per share (0.68)
Events during the fourth quarter of 2021
Rising demand and good leverage from investments generated a growth rate of 49% for Live casino and 9.4% for RNG compared to pro-forma Q4 2020.
EVO reached +1,000 Live Tables by the end of the period.
Initiation of a share repurchase program. In the quarter a total of 1,158,865 own shares were acquired.
Summary of the fourth quarter and the full-year 2021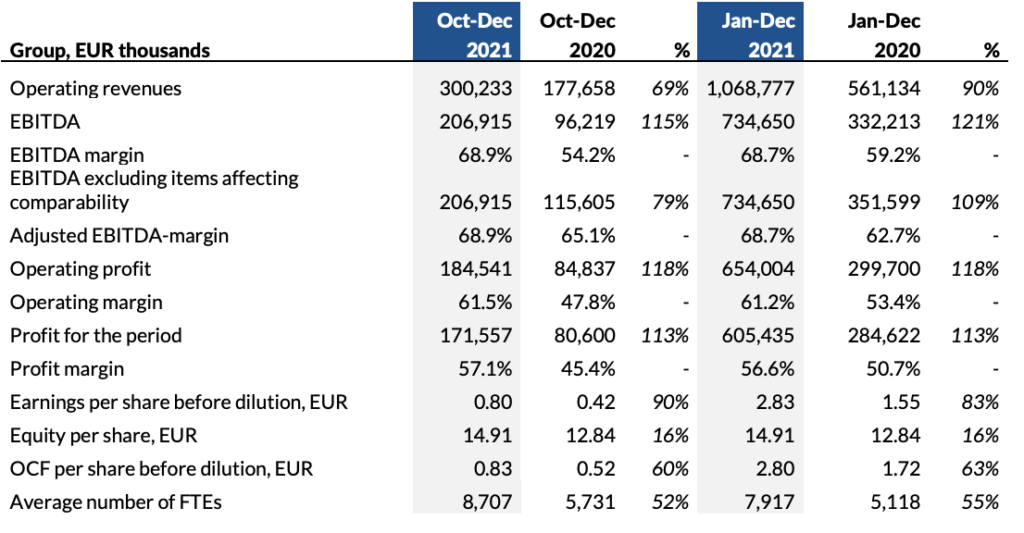 CEO's comments
The fourth quarter 2021, with continued top-of-the-line results, reflects the strength in our scalable business model and the value of our strategy to focus on the player experience.
Revenues in the fourth quarter increased by 69 percent to EUR 300 million, while the EBITDA increased to EUR 207 million corresponding to an EBITDA margin of 68.9 percent. Top-line growth continued to be driven by strong global demand for Live Casino, but also positively impacted by the increased revenue from the RNG business. Live Casino revenue continued on a high level and increased by 48.6 percent year-on-year. This compares well to the pre-pandemic growth rates of our Live business.
RNG revenue was slightly above plan and increased by 9 percent compared to the pro-forma figures of Q4 2020. Supported by new games and our one-stop-shop (OSS) solution which allows operators to access our games through one integration. Our ambition is to deliver stronger growth in RNG during 2022 compared to 2021 however the path to higher growth will not be linear and I expect the growth rate to vary through the coming quarters.
EBITDA margin is 68.9 percent for the quarter and 68.7 percent for the full year. This is in line with our guidance for the year. Margin has been relatively stable through 2021 and I consider this an achievement in a year of such strong expansion. For 2022 we expect to continue to invest heavily in expanding existing studios, in building new studios and in game innovation. With this said, for full year 2022 we expect the EBITDA margin to be in the 69%-71% range.
Towards the end of the quarter, a dubious, anonymous and falsified report with the clear intention to harm Evolution was published. We have over 15 years' experience of operations in regulated environments and we are comfortable and confident in our ways of working, our business model as well as in our constant strive to improve in all areas. Evolution is a content provider and we only supply to licensed customers. With the ambition to be even better we will continue to work on all processes in relation to due diligence of our customers and their licensing and regulatory framework. The measures we have taken during the quarter have had insignificant financial effect.
2022 is the year of product and innovation! Yesterday during our world-wide online product launch event we released a record number of products. In total Evolution will release 88 (!) new games 2022. We are with those fantastic new games, in all different categories, together with the one-stop-shop (OSS) showing our customers the true benefit and power of Evolution's ambition and innovation only aimed toward a true end user satisfaction. Our pipeline for 2022 is filled with both new takes on player's favorites and complete surprises using the power of all our different brands. Among the releases in the first quarter are 'BacBo' – a simplified version of Baccarat with a unique twist: it's played with dice, not cards. Also in Q1 – 'Peek Baccarat' a unique version of the classic game. During the first half of the year we will also launch big new slot games like NetEnt's Knight Rider and Red Tiger's Narcos Mexico. I am very excited of the product roadmap 2022 and truly grateful for all brilliant efforts put into the products by all Evolution teams.
The strong demand for online casino across the globe continued in the fourth quarter, and our expansion in studio capacity is set to follow suit. We exit 2021 with over 1,000 live tables, an increase of over 300 tables during the year, the largest increase in a single year. This dramatic expansion would have been an accomplishment under normal circumstances, but taking into account the challenges posed by the pandemic, I am very proud. It is a testament to the talent, capability and determination that characterizes the global Evolution team.
The North American online casino market continues to develop rapidly, we see great growth opportunity in all the current regulated states and are expanding all our studios. The next new studio to be launched will be Connecticut in 2022. In the quarter we also strengthened our position in Canada by signing with the provincial lottery and gaming agency, Ontario Lottery and Gaming Corporation (OLG).
In Argentina, we went live with operator BetWarrior and launched our live casino games portfolio in the newly regulated Buenos Aires Province online gaming market. Evolution was the first live casino provider in this market.
In Asia, where growth continued at a proficient level, our Red Envelop feature for Baccarat, a tailored game for the Asian market, was a growth driver in the quarter. This is an example of how our aim of providing the best player experience comes with adding a regional touch to the games.
The more mature European market has lower growth numbers, impacted to some extent by short-term regulatory changes affecting operators. In the quarter, the Netherlands opened its regulated online gambling market and we are powering several of the licensed operators with our offering. We expect the Dutch market to expand further as the number of licenses increase during 2022 and already in December the newly regulated market passed the pre-regulation levels.
To sum up the last quarter of another intense year – we continue to move full speed ahead. Yesterday's 2022 product roadmap announcement set the tone for what will be an exciting product year where we will continue our relentless focus to take the player experience to the next level and increase the gap to competitors. Finally, looking back at 2021, a year where several important milestones have been accomplished, I want to take this opportunity to thank and acknowledge the commitment and impressive work from all Evolution employees, who continue to strive to make Evolution just a little bit better, every day. It is an amazing global team and I look forward to an exciting 2022.