[PR] Evolution released today its Interim Report for January-September 2021.
Third quarter of 2021 (Q3 2020)
Operating revenues increased by 97% to EUR 276.0 million (140.0)
EBITDA increased by 113% to EUR 192.9 million (90.7), corresponding to a margin of 69.9% (64.8)
Profit for the period amounted to EUR 157.4 million (79.4)
Earnings per share amounted to EUR 0.73 (0.44)
January-September 2021 (9M 2020)
Operating revenues increased by 100% to EUR 768.5 million (383.5)
EBITDA increased by 124% to EUR 527.7 million (236.0), corresponding to a margin of 68.7% (61.5)
Profit for the period amounted to EUR 433.9 million (204.0)
Earnings per share amounted to EUR 2.03 (1.12)
Events during the third quarter of 2021
High demand for Live Casino generates a +53% growth YoY
RNG revenue growth 7.9% compared to pro-forma Q3 2020
Continued expansion in the US with opening of a new live casino studio in Michigan. After the end of the period launch of RNG-games in Connecticut with live games to follow.
Summary of the third quarter and the first nine months of 2021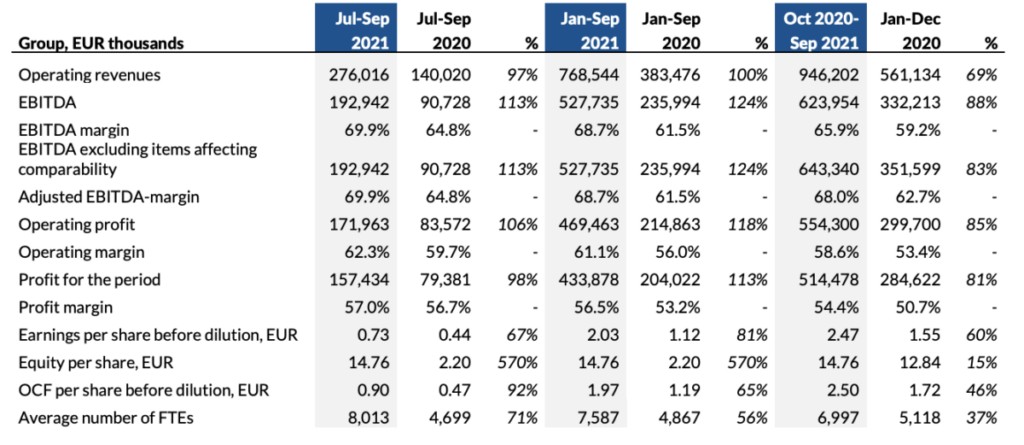 CEO's comments
The third quarter this year has been another quarter of extremely high activity within Evolution. The expansion of our business at the current speed is simply put – hard work – and I want to start these comments by thanking everyone in Evolution for great work during this period, without your effort and commitment the achieved financial results would not be possible.
The result for the third quarter 2021 has once again proven that our strategy to focus on the entertainment of the end-users and seamless and flawless experience is successful. Revenues in the third quarter increased by 97 percent to EUR 276 million, while the EBITDA increased to EUR 192.9 million. The EBITDA corresponds to a margin of 69.9 percent, exceeding our guidance for 2021.
Top-line growth is driven by very strong global demand for Live Casino but also impacted positively from our increased RNG business. Live Casino revenue growth was 53.2 percent compared to Q3 2020, which is higher than the pre-pandemic growth rate levels, showing that many of our newer players are staying in the network. RNG growth was 7.9 percent compared to pro-forma figures of Q3 2020 for NetEnt and BTG. Big Time Gaming, which was fully consolidated into our results in the third quarter, contributed with EUR 10.6 million in revenue. BTG stand-alone is growing at a rate of over 30 percent in the quarter, compared to their corresponding quarter in 2020. Our NetEnt and Red Tiger brands show growth of about 3 percent compared to the same quarter 2020 and while this development is in line with our expectations, our ambition for our NetEnt and Red Tiger brands is to deliver stronger growth moving into 2022.
As I have mentioned earlier this year, we are in the process of reshaping our RNG business. This year we have both re-structured the product roadmap and also re-built the complete technical platform for NetEnt. We are right now rolling out our updated integration for casino, One Stop Shop (OSS), towards customers which enables operators to reach all our existing content from one single integration and ensures that access to future Evolution content will go seamless and fast world-wide. This is a major step for both us and our customers but even more so for all our end users who will get more fantastic Evolution content. One sideeffect of this total technical make-over has been fewer new game releases in 2021.
As always, we continue to develop our portfolio of games. While our game shows, including successful wheelbased games such as Monopoly Live and Crazy Time, continue to attract players, we continue to broaden the audience for the game show category. Our new bouncing ball game – Cash or Crash – adds strategic and decision-making features in a game show style game. This game is all about player choice and the ability for the player to control the outcome. We also launched Fan Tan – a fresh twist on the beautiful traditional Asian bead game.
Besides adding new unique games, it's absolutely crucial to constantly enhance the end-user experience and entertainment value through enhanced and innovative user interfaces. Reduce all small bottlenecks and make it seamless. During the quarter, we launched an improved user interface to our traditional Blackjack game, through a new zooming feature in portrait mode. This clearly improves the gaming experience further.
The aim with all our offerings is to excite and entertain players with the best possible choice of world-class gaming. We are committed to creating the most immersive and exciting gaming experiences available.
The North American online casino market continues to develop rapidly in both US and Canada. In Michigan, where we introduced our portfolio of NetEnt games in the beginning of the year, we launched our live casino in the beginning of the quarter. The studio is off to a very good start and this best-in-class offering is yet another enabler of growth in the US market. After the end of the period we were first to the market with our slot games in Connecticut. We expect Live games to follow soon, Connecticut will be the 4th studio we operate in the US. Also after the end of the period we launched our live and RNG games with the Ontario Lottery and Gaming Corporation, it will be the 4th province in Canada to go live from our Canadian studio.
Ongoing studio projects include new studios in Madrid and Yerevan. This quarter, a lot of business focus has been centred around investing and establishing new studios. As always, expansion potential lies in existing markets, as well as new geographies and we will, as a natural part of our business, continue to expand and invest in existing studios both in North America and other regions at the same level as earlier.
Also, during the past quarter, we signed an agreement to acquire DigiWheel in an all-cash deal. DigiWheel's technology is exciting, innovative and unique and will be blended into our online Live Casino games and game shows. The ambition is to launch new games in 2022 using this technology.
As stated, our ambition is to continue to strengthen our leading position in the online casino market. One of the corner stones which allows us to increase the gap to our competitors even further is through product innovation. In February, as things are getting back to normal, it is once again time for ICE in London. I am already now very excited about presenting our 2022 road-map.
We are now well on our way into an exciting and very hectic last quarter and we have had strong start to the fourth quarter so far. New games to release, new studios to build, OSS to be rolled out and great new Evolutioneers to recruit at the same time as all of us already here need to focus hard on what we can do better, what we can do to make Evolution a little bit better every day.
Presentation for investors, analysts and the media
CEO Martin Carlesund and CFO Jacob Kaplan will present the report and answer questions on Thursday, 28 October 2021 at 09:00 a.m. CET via a telephone conference.
The presentation will be in English and can also be followed online. Number for participation by telephone:
SE: +46 8 505 583 56 UK: +44 33 330 092 71 US: +1 646 722 49 56
Follow the presentation at: https://tv.streamfabriken.com/evolution-gaming-group-q3-2021