[PR] Evolution released today its Interim Report for January-March 2023.
First quarter of 2023 (Q1 2022)
Operating revenues increased by 31.5% to EUR 429.6 million (326.8)
EBITDA increased by 30.7% to EUR 300.2 million (229.7), corresponding to a margin of 69.9% (70.3)
Profit for the period amounted to EUR 251.2 million (197.7)
Earnings per share before dilution amounted to EUR 1.18 (0.93)
Events during the first quarter of 2023
High demand and cost control generates a positive effect on margin development
Launch of Red Tiger unique timed jackpots in the US
After the end of the period, dividend of EUR 2.00 per share
Summary of the first quarter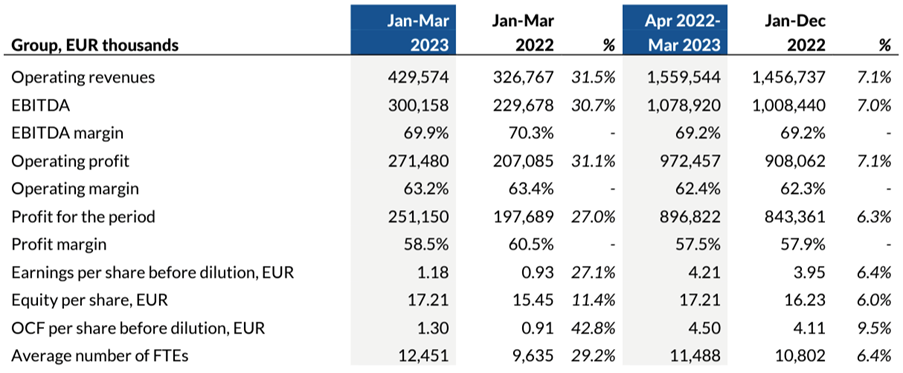 CEO's comments
A strong start of the year at Evolution. Revenues increased by 31.5 percent to EUR 429.6 million in the first quarter, with 83.8 percent of revenues deriving from live casino games and the rest from RNG. Live casino grew strongly with 36.1 percent compared to last year and revenues amounted to EUR 360.1 million. We continue to see a strong demand both from existing and new customers and good momentum from new games. RNG delivered EUR 69.5 million in revenue, only a slight increase compared to the same quarter last year. As we have communicated earlier, the development in RNG will not be linear towards our target of double-digit growth. I remain convinced that we can perform better in the RNG area, and we are working hard to improve. The underlying growth drivers for online casino are solid and I am happy with the start of 2023.
The general cost increase and other external challenges remained from 2022, and we continue to address them, every day. We constantly need to find new, better and smarter ways of working to continue to deliver. Be sure that we work hard on this and during the quarter we see an improvement resulting from those efforts. Our priority is always to grow top-line but we strive to do so in a profitable way. For FY 2023, as earlier communicated, we expect EBITDA margin in the 68-71 percent range, and for the first quarter we reported a margin of 69.9 percent, clearly within the communicated range.
As those who have followed us already know, Evolution's focus is always on delivering new, exciting playing experiences to our players. We strive to increase the entertainment factor, create new games not only for existing players but also for new player categories. The demands from future generations of online casino players will be different than today. In our Game show category, we continue to innovate and bring never before-seen games to the market. During the first quarter we presented two new live game shows, one is Funky Time, a game that builds on concepts from the very popular Crazy Time but also introduces brand new features. The other headline release is Extra Chilli Epic Spinsä – a game show built around one of our most popular slots games. It is a new way to play slots – I think it's best described as "social slots". You play, chat and win together. Both these games will be launched to players during the second quarter.
We plan to release over 100 games in 2023. In the first quarter we released 18 RNG titles. Our release pattern will be backend loaded to the second half of the year, also 2023. A highlight during the quarter was the launch of our first timed jackpot functionality in parts of North America. It is a new concept in the region that adds to the excitement for players.
We have high ambitions, and we are acting on a growing market. We are a profitable, strong, all-equity financed company making money at present and we are focused on growing. Hence, we will continue to invest, recruit and push for growth even though we currently face a tougher macro-economic climate. During the first quarter we have continued to invest in many of our existing studios and we continue to plan to start work on 1-2 additional studios during this year.
From this quarter we have made a change in our regional revenue table to better reflect how we work with the different regions. LatAm is a region that has seen a strong development during the past year and we now break it out as a separate region. We also group UK and Nordics into Europe as that better reflects our current structure for addressing that region. We have a true global demand for our product which is also reflected in the spread of revenues over geographic regions.
From a regional point of view, Europe reported strong growth of 14 percent in the first quarter compared to last year. The region, including Nordics and UK, represents some 40 percent of total revenue. Europe is a more mature market, characterized by lower growth rates than the other regions, but it still has large potential for Evolution – and therefore it is great to see this quarterly growth rate. Asia reported strong growth of 49 percent and North America 56 percent. LatAm makes up 7 percent of our total revenue in the quarter and we believe it is a region with great potential and positive momentum.
As stated, many times before – we always strive to do a little bit better every day, with the ambition to continuously improve our world leading playing experience and further develop our operational excellence. I really want to thank all the employees at Evolution for pushing hard to give us such a strong start to 2023 as well as remind all of you reading this, that Evolution is built out of thousands and thousands of young talents creating all of what I write about in these comments of the first quarter 2023. With that, let me round it off with that I look forward with excitement to the rest of 2023.
Martin Carlesund CEO
Presentation for investors, analysts and the media
CEO Martin Carlesund and CFO Jacob Kaplan will present the report and answer questions on Thursday, 27 April 2023 at 09:00 am CEST via a telephone conference.
The presentation will be in English and can also be followed online.
Number for participation by telephone: SE: +46 8 505 163 86 UK: +44 20 319 848 84 US: +1 412 317 6300
Pin code: 2488371#
Follow the presentation: https://ir.financialhearings.com/evolution-q1-2023