[PR] Evolution released today its Interim Report for January-June 2017.
Second quarter of 2017 (Q2 2016)
Operating revenues increased by 56% to EUR 42.3 million (27.1)
EBITDA increased by 81% to EUR 19.2 million (10.6), corresponding to a margin of 45% (39)
Profit for the period amounted to EUR 14.6 million (7.6)
Earnings per share amounted to EUR 0.41 (0.21)
Events during the second quarter of 2017
Strong and even growth for all products
Evolution named Live Casino Supplier of the Year for the eighth consecutive year
Change of listing to Nasdaq Stockholm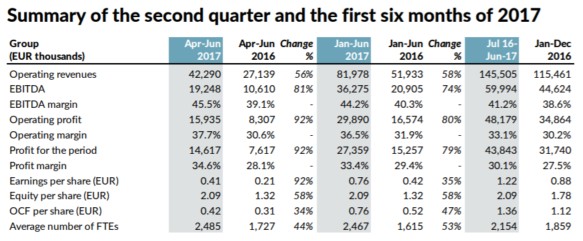 CEO's Comments
I am very pleased to be able to sum up an eventful quarter with positive development in several areas. The favourable momentum of the past quarters continued into this period, with a strong and steady growth for all products. It can be noted that gaming revenues generated on our platform using mobiles devices exceeded 50 percent for the first time in this quarter.
Compared with the corresponding quarter in 2016, sales rose by 56 percent. EBITDA for the quarter amounted to EUR 19.2 million, equivalent to a margin of 45 percent and an increase of 81 percent on the corresponding quarter last year. The improvement in margin is being driven by high growth among existing customers and in existing environments, supported by a continuously improving and increasingly efficient organisation.
We are seeing continued Live Casino initiatives among all of our customers, who are also marketing their offerings towards end users to an increasing extent. Operators' Live offerings are undergoing constant development and we are working hard to optimise their environments to optimally reflect each brand and various player profiles. For the remainder of the year, we expect an intense period in terms of expansion of new environments.
We have previously discussed our strategy to develop Live to include more than traditional tables games. Against this background, it is particularly satisfying that our latest game, Dream Catcher, which represents a completely new category in the Live segment, has quickly become popular among players. Dream Catcher is a clear example of our product innovation and, since its launch, it has developed in line with our high expectations.
Another new product is our progressive Jumbo 7 Jackpot, which is now part of Live Casino Hold'em. Evolution has contributed EUR 1 million to the initial winning amount, which is the highest starting level to date for a table game jackpot – a way for us to support our partners and increase the game's attraction among end users.
Land-based casinos continue to show considerable interest for our converging product Dual Play Roulette. Our latest installation, which is available for our entire licensee network, can be found at Grand Casino Bucharest. We are proud of our Dual Play solution, which really fills its purpose as a bridge between online and real-life play. The land-based sector is still clearly larger than the online gaming market, and Evolution shall be the go-to partner for physical casinos seeking to develop their digital brands.
Among new customers in the quarter, I want to highlight our agreement with the Netherlands' largest gaming operator Nederlandse Loterij, which runs a variety of game types and brands in the market. This partnership provides further evidence of Evolution's leading capabilities to deliver services in regulated markets, and we look forward to the opportunity to build a strong Live Casino product for this state-owned operator.
I would also like to mention two events that have contributed to Evolution's brand and position in the market. In early June, we won the Live Casino Supplier of the Year at the EGR B2B Awards for the eighth consecutive year. Given that there are many new players in the market, more Live Casino suppliers than ever were nominated – making the win particularly gratifying. Competition drives us to work even harder with the aim of continuing to expand our leadership in the segment. In June, we also moved from First North to the main market at Nasdaq Stockholm. It was a special feeling to ring the opening bell and affirm that Evolution has grown to become a large cap company since our IPO slightly more than two years ago. The list change is clear proof that the organisation has matured and professionalised during its time in a public environment.
Finally, I am happy to announce that, after the end of the period, we have been given the all-clear to establish our next major studio in Tbilisi in Georgia. From this studio, we will continue to expand, offering our services to additional customers and markets. We view the remainder of the year with confidence and excitement.
Martin Carlesund, CEO