Lightning roulette that's electrifying
Blending world-class Live Roulette with advanced RNG gameplay, Evolution Lightning Roulette is a revolutionised extended Roulette game offering a unique player experience. All the usual Roulette bets are here, plus extra chances to win with added Lucky Numbers and Lucky Payouts. There's an electrifying user interface for maximum player thrills, too, and it's all set in a stunning black and gold Art Deco environment. It's a sure way to light up your Live Casino.
Thanks to massive multiplayer scalability, Lightning Roulette can be played by a virtually unlimited number of concurrent players.
Lightning Roulette was awarded Game of the Year at the American Gambling Awards 2022, Product Innovation of the Year at the Global Gaming Awards, G2E Las Vegas and EGR's Game of the Year 2018, voted for by operators of the sector.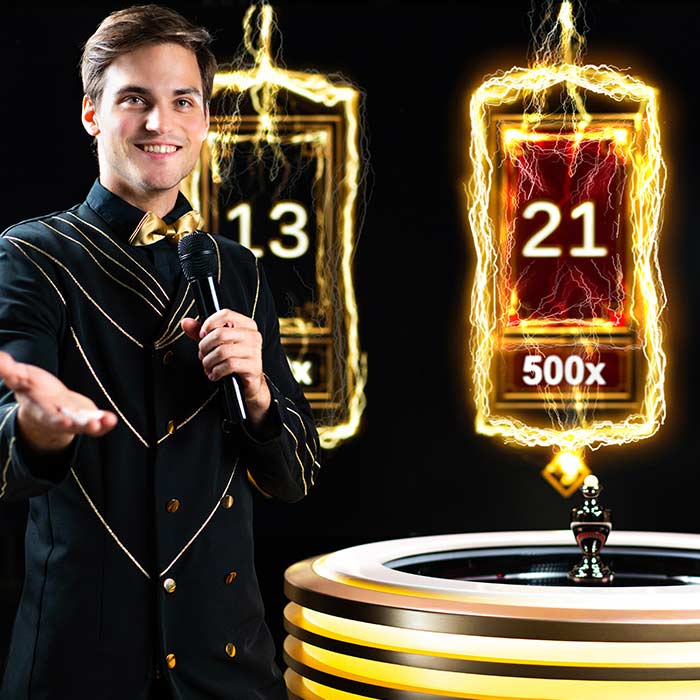 LIGHTNING ROULETTE
Our unique Lightning Roulette is like no other Roulette game. Not only is it visually stunning, it also adds RNG Lucky Number wins to every game round.
All the familiar elements of our world-class Live Roulette are here — the live wheel, the live dealer, the full line-up of Roulette bets.
But Lightning Roulette adds a whole lot more for an electrifying player experience. In each game round, between one and five Lucky Numbers are struck by lightning and given multiplied payouts of between 50x and 500x.
With its involving game show-style environment with advanced sound and lighting effects, Lightning Roulette is a unique and electrifying spin on traditional Roulette.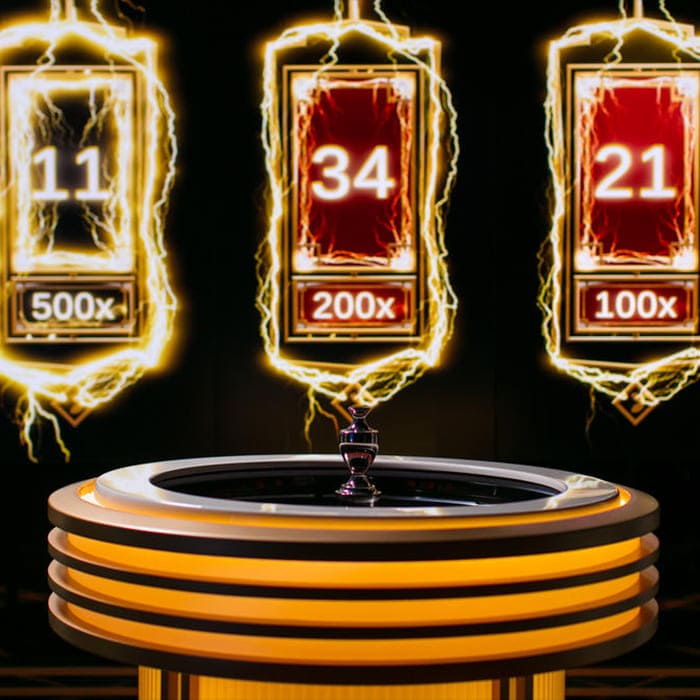 LUCKY NUMBERS AND LUCKY PAYOUTS
In Lightning Roulette, players can bet on the full range of Roulette bets just as they would in our standard European Live Roulette.
However, they also get additional chances to win through randomly generated Lucky Numbers and Lucky Payouts (multipliers of 50x, 100x, 200x, 300x, 400x and 500x)
After all player bets are accepted, the amount of Lucky Numbers (one to five), the Lucky Numbers themselves and the amounts of the Lucky Payouts are randomly generated. Each Lucky Number pays one of the Lucky Payouts of between 50 and 500:1 if the ball lands on the Lucky Number and if the player has made a Straight Up bet* on that number.
Non-multiplied Straight Bets pay 29:1. All other bets, such as splits, corners, red/black and dozens pay the same as standard Roulette.