DREAM CATCHER FOR SIMPLE, SUPER-SIZED FUN
Large vertically mounted Money Wheels, operated by a live dealer, are a prominent feature and proven favourite in many land-based casinos. Not only do they quickly catch the eye and engage player interest, they also offer arguably the simplest rules of any casino game. With our new Live Money Wheel game category, we've taken all that's best in the Money Wheel format and created a unique online live dealer variant with real appeal to slot players with our Live Dream Catcher.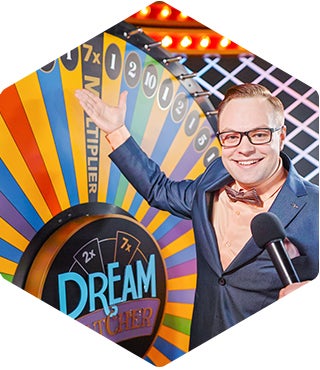 DREAM CATCHER
Dream Catcher is our original Money Wheel game and aimed to appeal to slot players.
This visually stunning immersive game has been created using a precision-engineered bespoke wheel, built exclusively for Evolution by TCSJOHNHUXLEY.
The wheel is divided into 54 equal segments separated by spins. 52 of the segments are marked with a number (1, 2, 5, 10, 20 or 40), with a unique colour for each number. The other two segments are coloured silver (2x MULTIPLIER) and gold (7x MULTIPLIER).
Players simply bet on the number at which they think the wheel will stop. If the player bets on the correct number, they win a corresponding payout: e.g. a wining bet on 5 pays 5 to 1, 10 pays 10 to 1, and so on.
If the wheel stops on a multiplier segment, all bets remain in place, and the wheel is spun again. The outcome of the next spin (1, 2, 5, 10, 20 or 40) will determine the winning wager as usual, but the odds will be multiplied by 2x or 7x, depending on which multiplier the wheel stopped on in the previous spin.
If the wheel stops on a multiplier segment again, then all bets remain in place and the multiplier from the last spin is multiplied again. The game host continues to spin the wheel until the spin ends with a result that is not a multiplier.