Gonzo comes to life with an exciting treasure hunt
Join Gonzo for a treasure hunt in our unique slots-inspired live game show. The Spanish explorer Gonzo has been searching for the lost golden city of Eldorado and its treasures in the hugely successful video slot Gonzo's Quest™. Incredible graphics, smooth animations and exciting features have helped Gonzo's Quest™ become one of the world's favourite online slots. Gonzo's latest quest takes entertainment to new exciting levels – a unique personalised treasure hunt with the chance of huge multiplied winnings!
Gonzo's Treasure Hunt™ is a ground-breaking online live game show and the world's first live casino game to bring together live and slots-style gameplay, and the first with the option to play in VR (Virtual Reality) mode.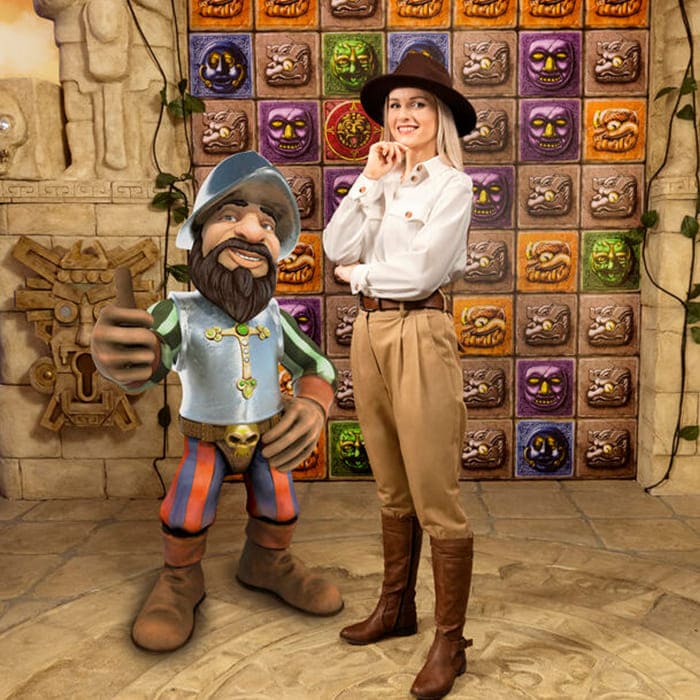 GONZO'S TREASURE HUNT™
In this innovative game show, available exclusively from Evolution, you join Gonzo and the game host on a quest searching for hidden treasures against the stunning backdrop of an ancient Incan world. The game's main feature is a giant wall with 70 stones, and this is where you will be searching for prizes.
You will search for hidden treasures by selecting stones on the wall where Prize Drops adds excitement to the game with supersized winnings of up to 20,000 per individual stone!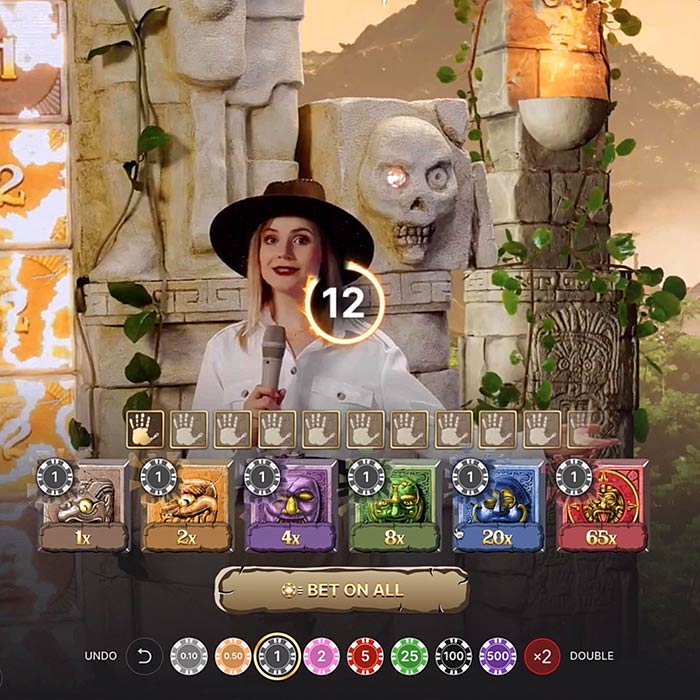 SELECT STONES AND PICKS
It's up to you to decide which treasures to look for and how many chances you need to find them. It's easy to play; place bets on which stones you will try to find by choosing from six different coloured stones. Each stone has a different payout value (1x, 2x, 4x, 8x, 20x and 65x). The higher the value, the less likely it is to appear.
After deciding which stones to look for, choose how many Picks you want to buy. You can buy up to 20 Picks each game round. Each Pick lets you select one stone on the wall during the treasure hunt. More Picks give you higher chances to find your stone, but it comes at a price.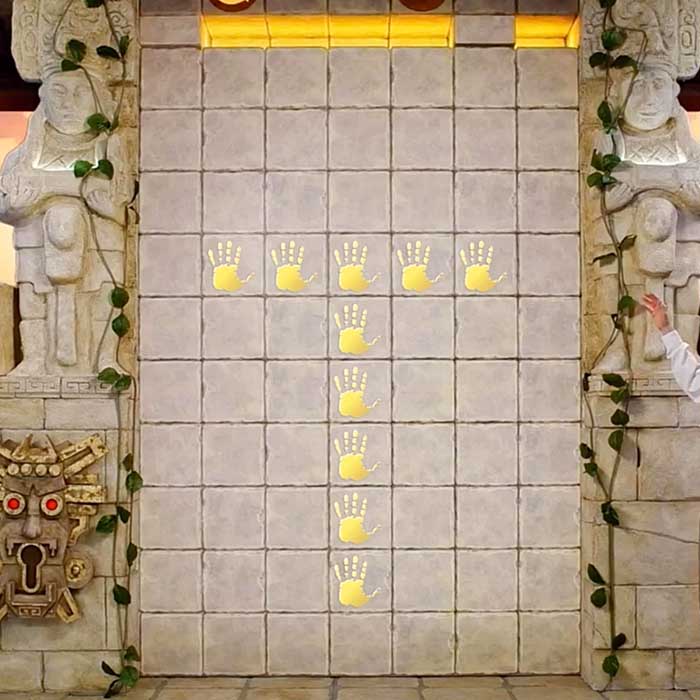 TREASURE HUNT
All stones on the wall are shuffled and the value of the stones are hidden. It's now time for the treasure hunt! Look for treasures by selecting stones on the wall, depending on available Picks.
Each player has a unique gaming experience, based on their choice of stones, how many Picks they buy, and by which stones they select on the wall!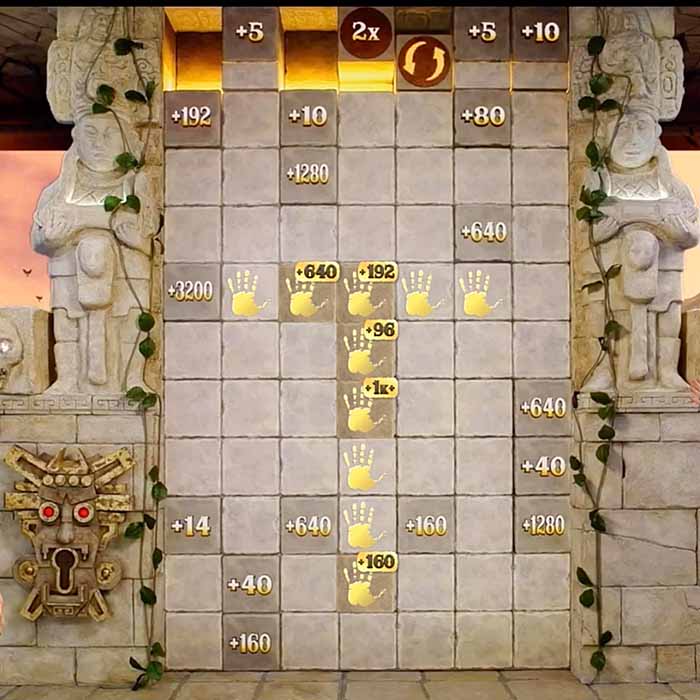 PRIZE DROP
The Prize Drop adds excitement as it can increase winnings, up to 20,000x per individual stone! Gonzo starts the prize drop by turning the big golden key.
Bonus prizes appear at the top of the wall, and if there's an opening in the row below, the prizes will drop down and stop at a randomly selected stone, adding to the value of the hidden stone.
Bonus prizes – Bonus prizes add to the value of the hidden stone, between 3 and 100 each time
Multipliers -Multipliers with values from 2x to 10x may appear, multiplying all visible values on the wall
Re-Drop -A Re-Drop symbol is extra exciting since it will trigger a new round of Prize Drops, adding extra opportunity to increase the value of the prizes, making it possible for one stone to receive several bonus prizes and multipliers.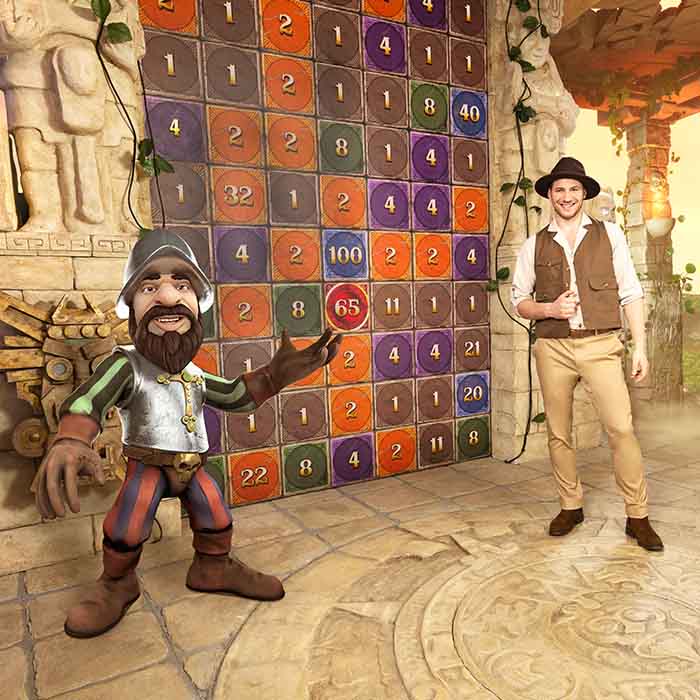 REVEALED TREASURE STONES
At the end of the game, the wall reveals all the stones' final values, and everyone can see if they have been successful in the treasure hunt.
You win if you picked one of the stones you initially placed a bet on. If you won a stone that received a bonus value, this value will be added to the standard payout value.
The maximum amount an individual stone on the wall can receive during the Prize Drop is 20,000.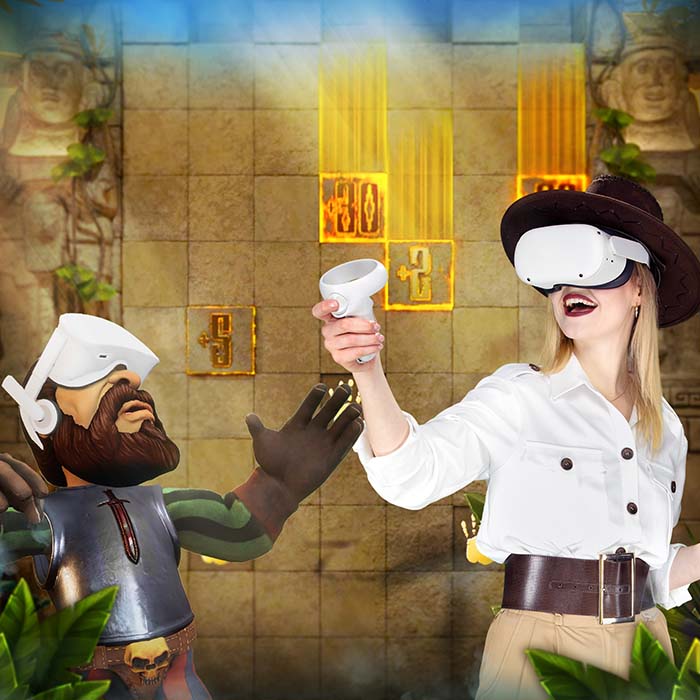 VIRTUAL REALITY
Gonzo's Treasure Hunt is the first Live Casino game to offer gameplay in Virtual Reality (VR) mode. Immerse yourself in the game and join the fantastic world of Gonzo!
To play the game in VR mode, you need a VR headset with a controller to interact with the game. The game phases are the same as in regular gameplay, but you how have access to stunning 360-degree video content, with a user interface adapted for this.
SEE ALSO
Game Shows – Our immersive and hugely entertaining range of live Game Shows!