[PR] Evolution released today its Interim Report for January-March 2020.
First quarter of 2020 (Q1 2019)
Operating revenues increased by 45% to EUR 115.1 million (79.3)
EBITDA increased by 79% to EUR 64.1 million (35.9), corresponding to a margin of 55.7% (45.3)
Profit for the period amounted to EUR 54.2 million (28.6)
Earnings per share before dilution amounted to EUR 0.30 (0.16)  
Events during the first quarter of 2020
Continued high demand generates a positive effect on margin development.
Adaptation of operations as a result of covid-19 to ensure the operation and safety of employees.
Repurchase of 338,000 shares in order to improve the capital structure by reducing the capital, and thereby creating added shareholder value.
Summary of the first quarter 2020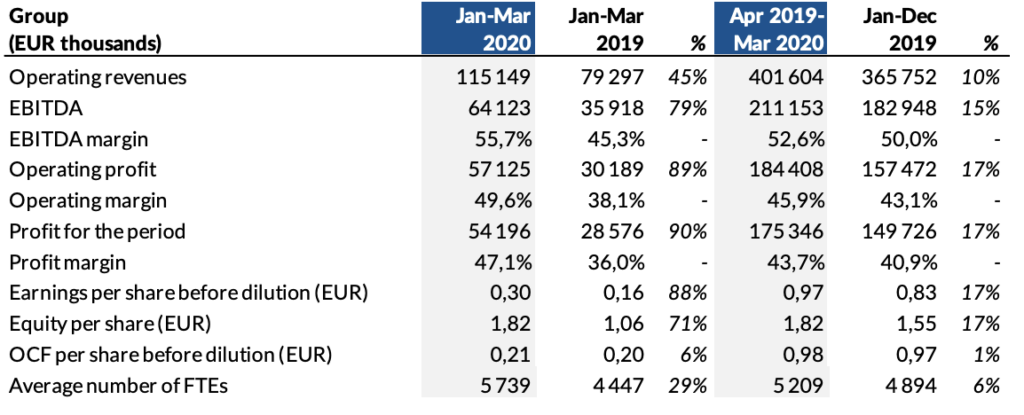 Comments from Group CEO Martin Carlesund:
The spread of COVID-19 has put the world in an exceptional and challenging situation which has also meant operational trials for Evolution. So far, we have handled the situation in a good way, and financially, Evolution has started 2020 very strongly in terms of both growth and profitability.
Revenues for the first quarter amounted to EUR 115 million, an increase of 45 percent compared to the first quarter of 2019. EBITDA amounted to EUR 64 million with a margin of 55.7 percent. With a good financial start to the year, great confidence ahead of the upcoming product launches and a good momentum at the start of the second quarter, I am more certain of our objective for 2020 to improve the margin level compared to 2019. Together, all employees did a fantastic job during the first quarter. I am deeply grateful for the energy and determination with which we have taken up the challenge – we have step-by-step, methodically moved forward every day. Of course, this work continues as we work to stay ahead of the developing situation. Our main priorities in dealing with the COVID-19 situation are to minimize the risk of spreading the virus and to create a safe workplace for our employees as well as to maintain the operation for our operators. We continue to comply with all the requirements from the authorities in the countries we operate in, and in many cases we have taken more far-reaching initiatives. Thanks to the extensive measures that have been implemented in terms of social distancing, changed working processes and routines for our employees, our operations have been able to continue without any large negative effects. However, in several of our studios, we operate with fewer tables compared to normal, and our studios in Georgia and Spain have been temporarily closed during limited periods. During these periods, a large share of the traffic has been managed by the company's other studios. To be a global company with sites across multiple territories has been an important factor during these times. With that said, our studios in Latvia and Malta are important hubs from which several of our most popular titles are broadcasted. 
We have seen an increased and strong demand for our products all through the first quarter. During the end of the quarter the absence of sporting betting games likely also favoured growth in our products. This circumstance effects also the start of the second quarter and we now see many new players being introduced to the Live segment. All in all, this means that we have a very good start to the year so far, but there will be also continuous challenges as we have not seen the end of the development of COVID-19 yet. 
We continue unabated with investments in both studios and new games. During ICE in London earlier this year, 12 new titles were announced, of which two went live during the first quarter; Speed Blackjack and Lightning Baccarat. Today, 23 April, we are launching Mega Ball – including a First Person version. Mega Ball is our first game in the lottery vertical. During its beta phase, the game has exhibited a high attraction and it will be interesting to follow the games development. In addition, we will extend our First Person portfolio with three more launching in the second quarter. Another two table games will also be launched during the quarter, Power Blackjack and Baccarat Multiplay. 
The construction of our new studio in Pennsylvania continues but with a postponed timetable due to the COVID-19 situation. However, our aim to launch it before year-end remains. Michigan has accelerated its casino regulation process and we hope that the state soon will be the third regulated market in the US. In South Africa we have received a National Manufacturer license. The license means that Evolution now is able to offer its and the subsidiary Ezugi's products to all licensed gaming operators in South Africa.  
To conclude, I am proud of how we have started off the year from a financial perspective, but even prouder of how we have handled these difficult times from an operational standpoint. All employees have showed that they are fast-paced, flexible and that even in hard circumstances they are able to maintain their focus on our given path; to continue to increase the gap to the competition and to strengthen our leading position.
Presentation for investors, analysts and the media
CEO Martin Carlesund and CFO Jacob Kaplan will present the report and answer questions on Wednesday, 23 April 2020 at 09:00 am CET via a telephone conference. The presentation will be in English and can also be followed online. Number for participation by telephone: +46 8 505 58 369 / +44 3333 00 92 71 / +1 833 823 0589 
Follow the presentation at https://tv.streamfabriken.com/evolution-gaming-group-q1-2020
For further information, please contact 
CFO Jacob Kaplan, +46 708 62 33 94, ir@evolutiongaming.com.