ELECTRIFYING TWIST ON THE POPULAR LOTTO
The award-winning Lightning family offers a unique portfolio addition – Lightning Lotto – with a great live casino experience and a new twist to the traditional Lotto game! Lightning Lotto takes the famous bouncing-ball game to the next level with two ball machines, Lucky Lightning numbers and an electrifying ambience.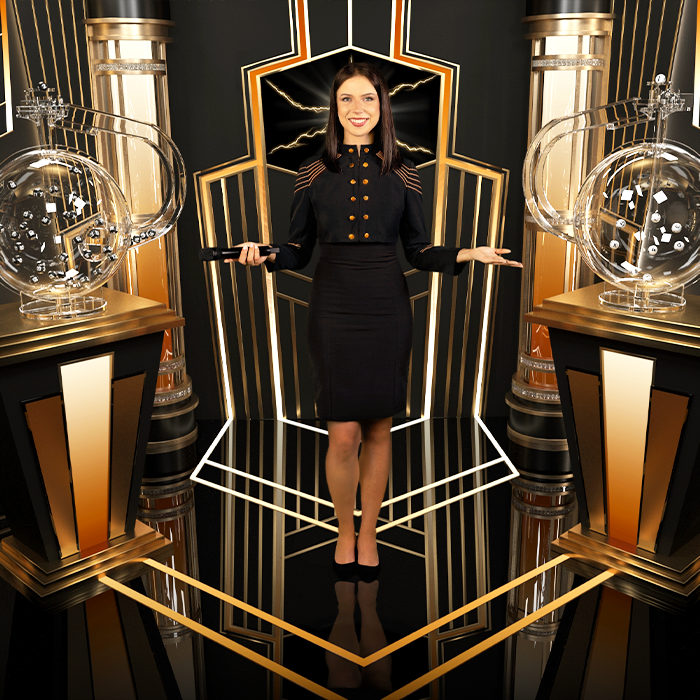 LIGHTNING LOTTO
The aim of Lighting Lotto is to match as many numbers as possible on a single ticket. Each ticket contains five standard numbers between 1 and 25 and a Powerball number between 1 and 10.
To win, you must match at least three numbers on your card.
Lightning Lotto is played with two ball machines – the first drum contains 25 balls (from 1 to 25), and the second drum contains 10 Powerball balls (from 1 to 10).
Six balls are drawn each game round – 5 balls from the first drum and 1 Powerball from the second drum. The Powerball Boosts your chance of drawing numbers 1-10 and getting more numbers matched, for the opportunity to win.
The game takes place in a stunning, Art Deco-themed studio, accompanied by a dramatic soundtrack and electrifying ambience, for a one-of-a-kind player experience.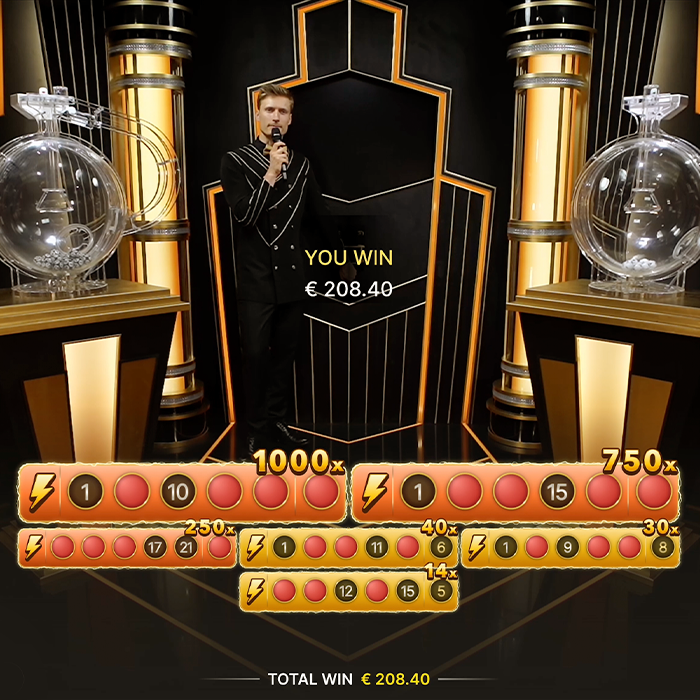 LIGHTNING ROUND
Boost your winning potential by purchasing up to 500 tickets per game and see them being struck by the power of the Lightning strikes!
Each game features up to two Lucky numbers that are struck by Lightning; if your ticket holds a Lightning number, that entire ticket will receive a random multiplier ranging from 2x to 10x, unlocking the possibility of increased payouts. If your tickets holds numerous Lightning numbers, the multipliers received will accumulate.
Once six balls are drawn, the matching numbers are marked with a red daub, and the winning tickets are placed on the top. Tickets that match three or more numbers have won, and the payout is based on the amount of numbers matched and the Lightning multiplier values received.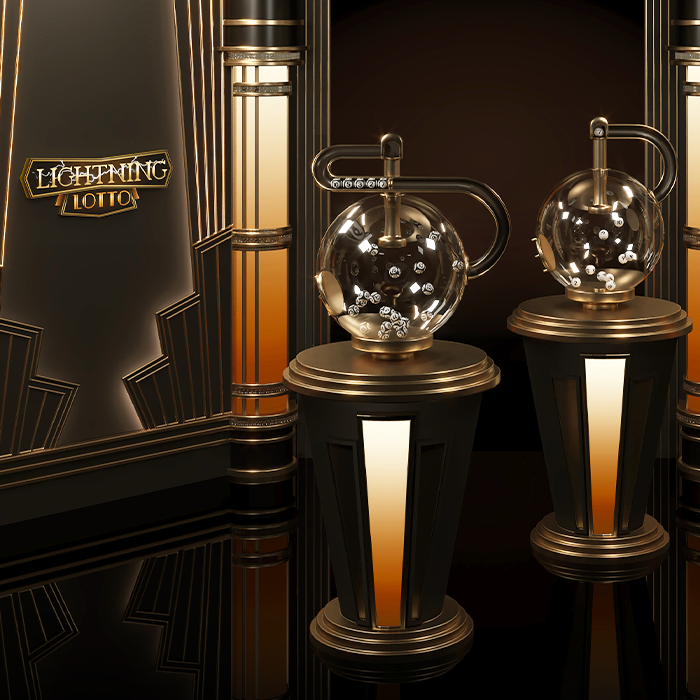 FIRST PERSON
Lightning Lotto comes also as a First Person version with captivating graphics and lively animations, for a flawless RNG gameplay experience.
Like in the live version, choose the number of tickets you wish to play with, select the value per single ticket and click 'Play', whenever you wish to begin the game.
The First Person version offers a Speed slider to provide more control over the game speed – 'Normal' and 'Fast'. Like all our First Person games, First Person Lightning Lotto has the unique 'GO LIVE' button that takes you directly to the live Lightning Lotto.
The game categories provided on this website are intended for general informational purposes and the descriptions are not exhaustive in addressing all legal frameworks. We disclaim any liability for any discrepancies and for the use of such descriptions as a sole basis for regulatory approval of games.